RACE BULLETIN No. 5 – 29th September 2021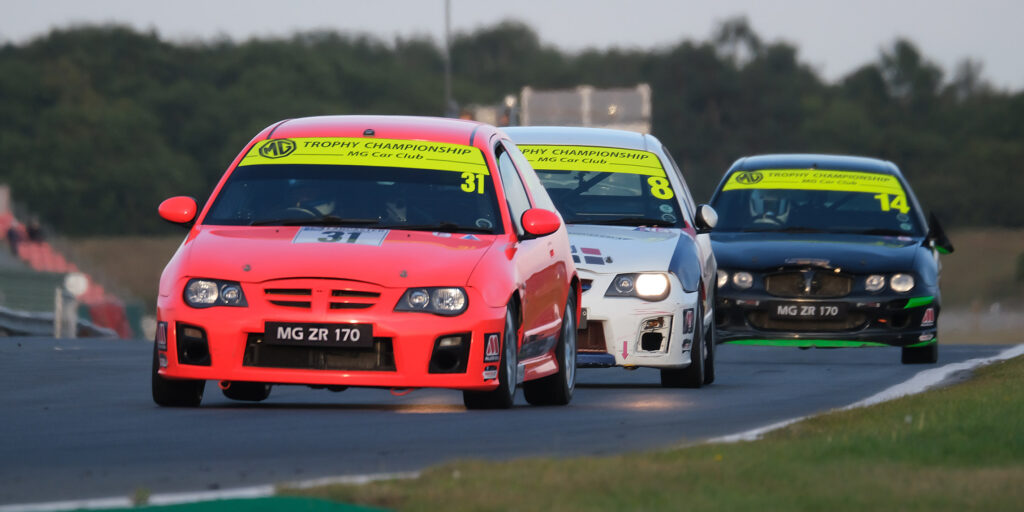 Snetterton 300 11th September 2021
The MGCC Holden MG Trophy Championship
After an eight week gap since Donington Park the final rounds of the 2021 MG Trophy Championship were held on the Snetterton 300 circuit. With his collection of eight chequered flag finishes Sam Kirkpatrick had already secured both the Class A and Overall Championship title, but with only two points separating the top three in Class B, excitement was still guaranteed. As the closing date for entries approached for rounds nine and ten of the 2021 Championship a grid of eighteen looked possible, with a Class breakdown of 4 Class A, 11 Class B, and 3 Class C.
Driver News
Included in this total was a Class B guest drive for 17-year-old Astin Wigley (No.58) from Stevenage, with a newly acquired car. Sadly, a possible case of Covid in the family brought on the need for a very disappointing withdrawal at the last minute. We look forward to seeing Astin in 2022. A last minute entry from Mike Harris (No.37) restored the grid to 18, 5 Class A, 10 B, and 3 C.
Testing
The MSV option for some Friday track time was taken up by just over half the field. Patrick Booth (No.33) was back in his Class A machine, but not confident at the end of the day's testing that his bottom end oil leak issue had been resolved.
Qualifying
With John Donnelly (No.76) due to take part in the Great North Run for Young Lives vs Cancer on the Sunday, both Trophy races were scheduled for Saturday. Qualifying started ahead of schedule at 09:49 and ran for the full 20 minutes without interruption. Failure to observe track limits was again a feature particularly at Agostini and Williams, although it was only Ballard whose repetition resulted in three lap times being removed, not that this changed his final grid positions! Top threes for Round 9 A Burgess(P1), Cole(P2), Booth(P3), B Ballard(P5), Campbell(P6), Dennison(P7), C Moreton(P14), Tolley(P15), Donnelly(P16). As always, the second race grid is based on second best quali times and so for Round 10 A Burgess(P1), Cole(P2), Booth(P3), B Ballard(P5), Campbell(P6), Dennison(P7), C Moreton(P13), Tolley(P14), Donnelly(P15).
Race Report by Mark Paulson (edited by BW)
With the MG Trophy title already in his pocket after the July rounds at Donington Park, Sam Kirkpatrick chose to sit out the races at Snetterton, which left the way clear for Fred Burgess to take two comfortable wins – his first of the season – on a track at which he thrives. But it was the battles between youth and experience in Class B that stole the show.
Burgess's fellow front-row man Doug Cole was forced to begin race one's first start from the pitlane after his car wouldn't start in the assembly area. But the race was red-flagged on the first lap when Robin Walker ran wide at Williams and re-joined the circuit in the path of Joe Dalgarno, with the collision resulting in both cars rolling. Both drivers were fine, but the damage to their cars meant their race weekends were over.
Cole took up his grid slot for the re-run, but was unable to match Burgess's pace. He had to settle for second as Patrick Booth completed the podium, with the trio repeating that result in race two.
"Both races were fairly comfortable," admitted Burgess. "I've always said, I don't care if I come fifth or sixth if I have a good race. I enjoyed the weekend because I love this circuit – it's one of my favourite circuits so it's always fun – but it would have been nice to have someone a bit closer."
Instead of focusing on the leader, most onlookers' eyes were fixed on the enthralling Class B battles. The class championship was on the line, with only two points separating Fergus Campbell, Tylor Ballard and James Dennison heading into the weekend. Ballard struck first blood by taking both class pole positions, as Campbell first suffered an ABS issue and was then left to rue race one's red flag as his trademark lightning start counted for nothing. Ballard made the best getaway at the second time of asking and kept himself clear of the engaging scrap between Campbell and Dennison. Campbell made the decisive move for second mid-race at Oggies, and while he was able to pull away and reduce the gap to Ballard, he ran out of laps to make a challenge.
Campbell made another quick start in race two but, as the others tried to follow him between the Class A cars contact led to an accident which brought out the safety car. Ballard fared worst of the Class B contenders, touring into the pits with a holed radiator and his championship hopes in tatters. That left Campbell needing to finish second to be sure of the class title. Under pressure from Dennison and Jack Chapman, he was able to fend off the pair and clinch the class crown in style while also earnt him Millers Oils Driver of the Race.
It was a desperately disappointing way for Ballard to lose out, having finished every other race of the season. But at 21 years of age, he has proven that he can compete with far more experienced drivers like Campbell and that his time will come.
"For a relatively modest club racing championship, the Trophy is so incredibly competitive," said Campbell, who repeated his class triumph of 2014 and credited car builder Rob Quinn of Quinntech for the machinery at his disposal.
"I'm 52," he added. "These kids are young and brave! James Dennison is mighty fast and he's got a bit of experience in these cars. The lad Jack has come into it this year and he's really arrived. If my concentration slipped for a minute he would have been there."
Chapman certainly impressed as he passed Dennison for second at Brundle mid-race. Having already been named Millers Oils Driver of the Race for his fourth in class earlier in the day, he was also named as Saturday's overall Driver of Day for his efforts.
James Moreton continued his run of winning Class C at each race he has contested, wrapping up the class title in the process, and sixth position in the Overall Championship. In the first race John Donnelly finished ahead of Guy Tolley by 0.8s for second in Class, but the order was reversed in the second race with Tolley finishing with an 8.2 second advantage over Donnelly.
John went on to complete the Great North Run in 1:59:25, and you can still contribute to his just giving page at https://www.justgiving.com/fundraising/john-donnelly21
Round 9.
Fastest Laps – A: Burgess 2:13.771 on lap 4, B: Campbell 2:17.980 on lap 8, C: Tolley 2:27.762 on lap 9
Millers Oils Driver of the Race – Jack Chapman
Round 10.
Fastest Laps – A: Burgess 2:14.094 on lap 5, B: Chapman 2:18.842 on lap 4, C: Moreton 2:26.712 on lap 4
Millers Oils Driver of the Race – Fergus Campbell
Driver of the Day – Jack Chapman
Bruce Woods
MG Trophy Championship Co-ordinator
t: 07836 358300
e: Trophy@mgzrx.com