RACE BULLETIN No. 4 – 29th July 2021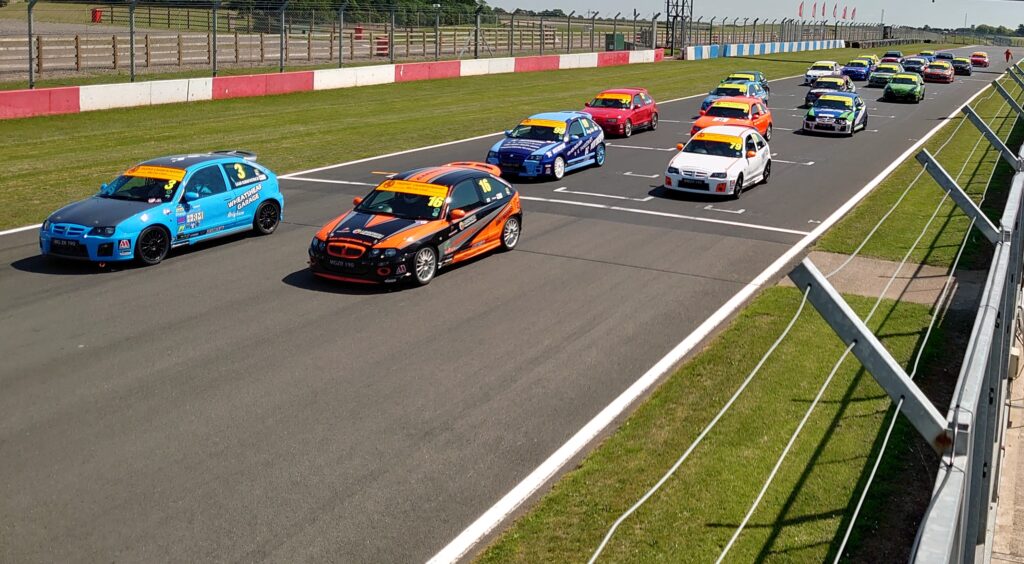 Donington Park 17th & 18th July 2021
The MGCC MG Trophy Championship
Five weeks on from our visit to Silverstone the Trophy Championship moved to the Donington Park National circuit. As the closing date for entries approached for rounds seven and eight of the 2021 Championship a grid of twenty five looked possible, with a Class breakdown of 6 Class A, 15 Class B, and 4 Class C.
Driver News
Following a rebuild of the dyno busted engine Phil Tomlinson (No.117) made his delayed return to the Trophy grid. Also back for the first time in 2021 Class B was Andrew Herron (No.72) with a re-shelled Trophy Blue car.
Yet again, whilst leaving a decision right up until the deadline Erick Lefebvre (No.66) was forced to withdraw as there had been no change in the Covid travel restrictions. Sadly, John Booth (No. 50) found himself in a similar position, having to isolate at home as his daughter was ill with Covid. Fortunately, Mike Harris (No.37) reversed the declining grid with a late entry to make a very welcome return to Class A in 2021. So come Saturday morning the Trophy Grid was twenty four. 7 Class A, 13 B, and 4 C.
Testing
With the forecast set for the warmest weekend of the year so far, on Friday seventeen competitors took advantage of the MSV option for some track time. Joe Dalgarno (No.93) Class B absorbed the bad luck for the day when his engine totally destroyed itself. A busy Friday evening followed and with much assistance a newly assembled replacement was fitted allowing Joe to continue for the weekend.
Qualifying
Another two-day meeting format for Trophy with qualifying starting ahead of schedule at 09:48, and running for the full 15 minutes without interruption. Failure to observe track limits was widespread, 14 lap times were removed. However, post session analysis shows no one lost any starting grid position as a result. Top threes for Round 7 A Kirkpatrick(P1), Burgess(P2), Cole(P3), B Campbell(P6), Bacon(P7), Ballard(P8), C Croker(P18), Moreton(P19), Donnelly(P21). As always, the second race grid is based on second best quali times and so for Round 8 A Kirkpatrick(P1), Burgess(P2), Cole(P3), B Campbell(P6), Ballard(P7), Bacon(P8) C Moreton(P18), Croker(P19), Donnelly(P21).
Race Report by Graham Keilloh (edited by BW)
The MG Trophy this season has had a pattern of two young guns, Sam Kirkpatrick and Fred Burgess, battling over first place, but with Kirkpatrick prevailing every time. The 20-year-old indeed won six from six before Donington. And in Leicestershire's race one he made it seven.
Burgess true to form attacked Kirkpatrick throughout Donington's race one, and he reckoned he could have made a move for the lead had the race not ended early with a red flag – after a spectacular clash between Paul Savage and Josh Bacon exiting the chicane. Third across the line was Doug Cole.
Race two was a similar tale at the front, but this time it had a last-lap twist. A late safety car bunched the contenders up, and Burgess had throughout looked stronger than Kirkpatrick out of Old Hairpin. On the final tour he got alongside there, but they touched and Burgess spun, dropping to ninth, while Kirkpatrick was able to continue to be first home to claim seemingly win number eight – the championship's maximum-possible season total.
But he was docked five seconds for an unsafe track re-join, meaning he was classified third with Doug Cole declared winner, and Adam Jackson promoted to second. Kirkpatrick's results nevertheless were enough for him to be officially assured of this year's MG Trophy Championship.
Kirkpatrick said: "It's been a really close fight all the year with Fred – just managed to get out on top. It was a close fight all the way through [at Donington]."
Burgess added: "I think I've been the quickest car (this weekend), just haven't managed to convert it to a win. Bit disappointing but we'll come back next round and have a go. I like Snetterton, I was always quick there in the 170; I won there last year in the 190.
"There's a lot of ifs and maybes [this season]. I've had the pace most weekends to have at least shared the wins with Sam. There's been a few times the flag's come a lap late or a lap too early. We'll keep trying; we'll get there."
Fergus Campbell in race one topped the Class B runners, finishing fifth overall and getting Millers Oils Driver of the Race having kept just out of reach of the chasing Bacon up until his contact with Savage. After correcting the result back to the end of the sixth lap second in Class B was Tylor Ballard, with James Cole taking third to match his fathers form in Class A. James Moreton won the Class C battle by 9s ahead of John Donnelly, with Paul Croker a further second back.
Race two in Class B had an equally dramatic finish as in Class A, with Tylor Ballard claiming first place from long-time leader Campbell on the final lap in a tight five-car lead scrap. At the line less than 1.2 seconds separated the first five Class B finishers, the final order being Ballard, Campbell, Chapman, Bacon, and Dennison. This crescendo also got Ballard both the Millers Oils Driver of the Race and Sunday's Driver of the Day.
Jack Chapman is in his first year of Tin Top racing and has shown gradually improving results from race to race. "I never expected to be on the podium this year, and to be going home with a trophy has absolutely made my weekend."
Moreton made it a double win in Class C, maintaining his 100% record for the six rounds he has so far entered this year, again finishing well clear of runner-up Donnelly and Guy Tolley in third.
Round 7.
Fastest Laps – A: Burgess 1:20.198 on lap 2 (New Lap Record), B: Campbell 1:23.873 on lap 4, C: Moreton 1:28.351 on lap 2
Millers Oils Driver of the Race – Fergus Campbell
Round 8.
Fastest Laps – A: Burgess 1:20.611 on lap 4, B: Campbell 1:23.574 on lap 11, C: Moreton 1:28.322 on lap 12
Millers Oils Driver of the Race – Tylor Ballard
Driver of the Day – Tylor Ballard
Bruce Woods
MG Trophy Championship Co-ordinator
t:    07836 358300
e:   Trophy@mgzrx.com