RACE BULLETIN No. 3 – 16th June 2021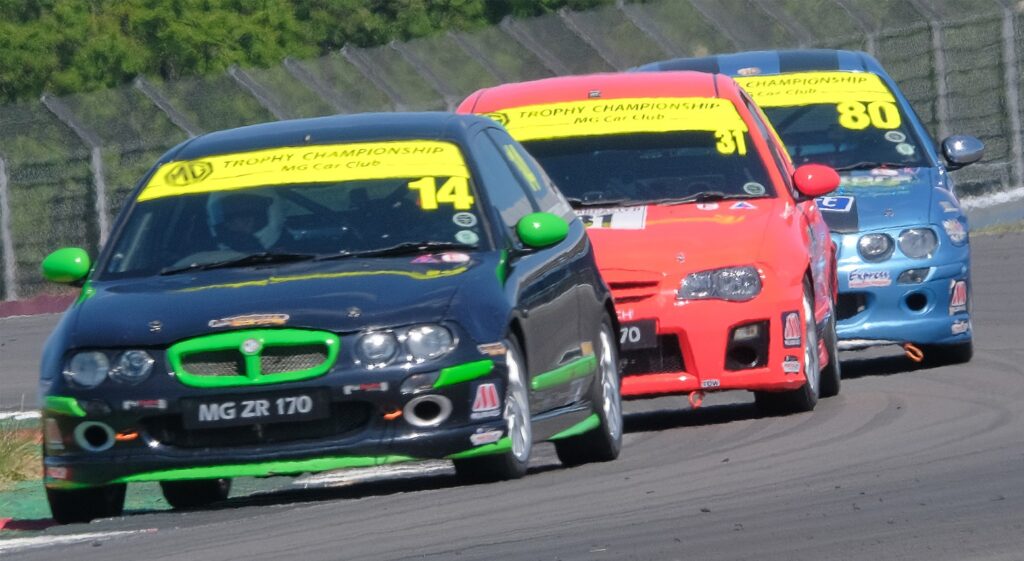 Silverstone Grand Prix 12th & 13th June 2021
The Unity MGCC MG Trophy Championship
After a very short gap of only three weeks the Trophy Championship moved on to the full Grand Prix circuit at Silverstone for the very first time. As rounds five and six of the 2021 Championship approached the entry list looked to be a healthy 23, with a Class breakdown of 8 Class A, 12 Class B, and 3 Class C.
Driver News
This weekend's event was to see the return of Phil Tomlinson and the Class B Carrot Racing car, both having had major surgery since their last Trophy appearance. However, a dyno test of the new car engine on the Monday before proved catastrophic, and the entries were reduced to 22. This total included Ross Makar (No.73) with a one-off guest drive in a newly built 4G Class A car, although with his 2020 engine. In Class C, entries remained at the same level with class leading James Moreton (No.78) returning after missing Oulton, and Guy Tolley taking a break for Silverstone. With no change in the Covid travel restrictions yet again, Erick Lefebvre (No.66) was unable to join the Championship and had to rely on a combination of TSL and our Facebook Live Broadcast by Adrian Wray.
Round Sponsor – Unity Coventry MG
Rounds five and six of the 2021 Championship were sponsored by Unity Coventry. Unity Automotive began in 1980 when their first branch was opened at Tredington in Warwickshire. Expansion over the following years saw more branches opened at Coventry, Leicester and Oxford. Many car brands are catered for at the various sites and their Oxford branch is now an official 'brand centre' for FCA brands. The Balsall Common branch 'Unity Coventry' which was acquired in 2012 took on the MG brand in 2019 and our sincere thanks go to Elliott Cartwright and all the staff at Station Road.
Testing
With great contrast to the damp conditions of testing before Oulton, the Friday before Silverstone was hot and sunny and twelve competitors took to the track, keen to familiarise themselves with the full GP circuit and the tight left-hand turn at Vale which the Championship had never used.
Qualifying
The two day meeting format and scheduling of the Trophy race meant qualifying kicked off at 10:58. For the first time this year there was a full twenty minute session under green flag conditions. Due to exceeding track limits Bacon and Makar had one lap time removed, Kirkpatrick, Chapman, and J Booth each had two, none of which impacted on either their first or second best times clearly demonstrating the fairness of deleting the erroneous lap, rather than the best lap as had previously been the rule. Top threes for Round 5 A Kirkpatrick(P1), Burgess(P2), Makar(P3), B Dennison(P9), Bacon(P10), Dalgarno(P11), C Moreton(P19), Croker(P20), Donnelly(P21). As always, the second race grid is based on second best quali times and so for Round 6 A Burgess(P1), Kirkpatrick(P2), Makar(P3), B Dalgarno(P9), Dennison(P10), Bacon(P11) C Moreton(P18), Croker(P20), Donnelly(P21).
Race Report by Mark Paulson (edited by BW)
Sam Kirkpatrick remains unbeaten in the 2021 MG Trophy but, once again, Fred Burgess made him work hard for his continued success.
Making his first appearance of the year in a ZR 190 newly built by 4G Racing, albeit in a non-scoring guest capacity, Ross Makar looked set to give the leading duo a run for their money. Indeed, from third on the grid, he ran around the outside of polesitter Kirkpatrick's similar car through Copse before yielding into the Maggots/Becketts complex. But the three-way fight would prove short-lived as Burgess's gearbox gave up the ghost and Makar's engine – an ageing unit transplanted from his previous machine – blew, ending his weekend. So Kirkpatrick could look after his tyres in the hot weather as he eased to a fifth win of the year from Adam Jackson in a season-best second, with Doug Cole completing the podium.
Joshua Bacon (ZR 170) was named Millers Oils Driver of the Race and Saturday's Driver of the Day after claiming his first Class B win. He jumped class polesitter James Dennison and led throughout as a closely fought contest played out behind. Dennison fought off Tylor Ballard for second in class, with James Cole also edging out Ballard by five hundredths of a second on the run to the flag for third.
In Class C the order over the line remained the same for all eight laps, with James Moreton taking his third win from as many races, with Paul Croker 2.3 seconds behind, and John Donnelly third.
Five cars failed to finish the first race. Patrick Booth and Ross Makar both had engine failures, Makar was forced to withdraw from round 6, whilst Booth accelerated a plan he had to purchase a Class B 170 which he collected and prepared overnight with the 4G team, qualified out of session Sunday morning, and started from the back of the grid, now in Class B. Fred Burgess was able to borrow a gear box, and Robin Walker replace a hub, a failed stud causing his loss of a wheel, and both were able to make the second race. Also fixing his issue of a jammed on full throttle was Fergus Campbell, meaning 21 cars started the Sunday race.
With Makar withdrawn from P3, and Booth starting at the back, the top threes became A Burgess (P1), Kirkpatrick(P2), Jackson(P3), B Dalgarno(P7), Dennison(P8), Bacon(P9) C Moreton(P16), Croker(P18), Donnelly(P19).
Burgess converted pole position into the lead of race two but had his opening-lap margin wiped out by a safety car required after Bacon and James Cole's first-corner accident. Burgess made a good restart but Kirkpatrick got a run through Aintree to take the lead, only for Burgess to fight back with an around-the-outside run through Stowe, completed into Vale on the next lap. The effort was enough to earn Burgess the Millers Oils Driver of the Race, but a mistake under pressure at Brooklands allowed Kirkpatrick into a decisive lead to make it six from six this season. Jackson was relatively lonely in third, his fourth podium finish of the season.
"I had to really fight for that one," Kirkpatrick smiled. "Much more rewarding." It was another case of what might have been for Burgess, who nevertheless relished the contest: "It was a great race, we enjoyed it a lot. Sam moves around a lot coming into the braking zone, so you're trying keep an eye on which side he's going to go and then I just missed my braking point."
Dennison secured Class B honours from Ballard and Fergus Campbell in another hard fought extremely close battle, the final gap between first and second 0.346s and between second and third 0.262s.
In Class C James Moreton (ZR 160) passed Paul Croker to take his second Class C win of the weekend, with Donnelly again third.
Round 5.
Fastest Laps – A: Kirkpatrick 2:30.694 on lap 5 (New Lap Record), B: Ballard 2:37.604 on lap 5 (New Lap Record), C: Moreton 2:44.477 on lap 5 (New Lap Record)
Millers Oils Driver of the Race – Joshua Bacon
Driver of the Day – Joshua Bacon
Round 6.
Fastest Laps – A: Burgess 2:30.467 on lap 7 (New Lap Record), B: Bacon 2:38.083 on lap 5, C: Moreton 2:43.577 on lap 5 (New Lap Record)
Millers Oils Driver of the Race – Fred Burgess
Bruce Woods
MG Trophy Championship Co-ordinator
t: 07836 358300
e: Trophy@mgzrx.com