RACE BULLETIN No. 2 – 25th May 2021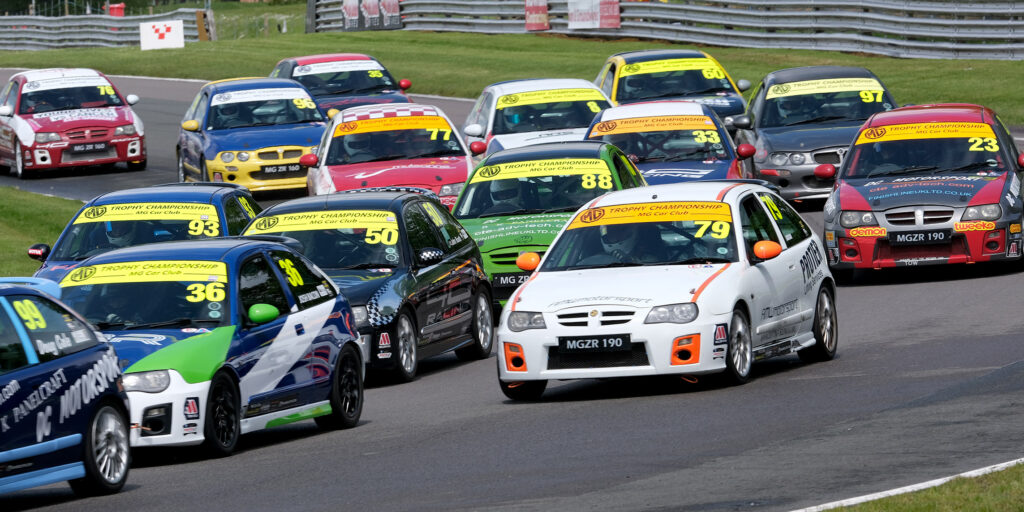 Oulton Park International 22nd May 2021
The Mangoletsi MGCC MG Trophy Championship
Just four weeks since the season opener the Trophy Championship moved on to Oulton Park for rounds three and four. At the closing date there were 22 entries, with a Class breakdown of 8 Class A, 11 Class B, and 3 Class C.
Driver News
Andy Heitman (No.60) switched from Class C to Class B, with a second car identically wrapped to that used at Brands. Making his Trophy (and racing) debut, now equipped with a suitable race suit was Keith Henley (No.30) in Class B. Also racing for the first time in 2021, making very welcome returns to the Championship were Paul Savage (No.23) in Class A, James Cole (No.88) in B, and Paul Croker (No. 96) in C. With growing frustration, Erick Lefebvre (No.66) was still unable to travel from France due to Covid restrictions. Due to unforseen circumstances Graham Ross (No.1) Class A had to withdraw leaving a starting grid of 21.
Round Sponsor – Mangoletsi MG
Rounds three and four of the 2021 Championship were sponsored by Mangoletsi MG. Based in the North West of England, Mangoletsi are situated amidst beautiful countryside, flanked by Holmes Chapel and Knutsford. With easy access from the M6, along with many other commutable routes via winding country lanes, they are perfectly placed to deliver the most thrilling and comprehensive test drives. Selling cars to customers nationwide, the Mangoletsi team strive to make the purchasing experience of your next car as exciting and pleasurable as possible. Having been established for almost fifty years, they have a widespread loyal customer base – and this comes by no fluke. With fantastic offers in place to reward both new and repeat custom, there has never been a better time to buy a car from Mangoletsi. In addition to providing a ZS EV and a HS PHEV for use as Course car and Safety car four further vehicles from the latest MG range were on display. Our thanks to Simon Taylor and the team from Mangoletsi.
Testing
A particularly damp Friday MSV testing day saw twelve competitors take to the track, although just the journey to Oulton on a trailer was enough for some to set the theme for my weekend as the poor adhesion quality of one of our sponsor supplied stickers became apparent. Patrick Booth (No.33) found himself with no choice other than to experience a very expensive "Running In" process, only able to use the final session with any real speed, his engine having to have been rebuilt since Brands Hatch. A few late nights work by Alex at 4G. Fergus Campbell (No.31) managed to lose a crank pulley in the afternoon, but thanks to Joe Dalgarno's spare was able to prove no further damage.
Qualifying
The Trophy qualifying session was the third of the day and started at 09:20 in the wet. There were only really six laps under green flag conditions, interrupted with a couple under safety car conditions, after Jack Chapman (No.8) had had an excursion. The complication caused eight people to have a lap time removed from their top two. Another interrupted qualification session where many drivers were unable to demonstrate their full qualification potential. Top threes for Round 3 A Kirkpatrick(P1), Burgess(P2), Jackson(P7), B Ballard(P3), Campbell(P4), Dennison(P5), C Croker(P17), Tolley(P18), Donnelly(P19). As always, the second race grid is based on second best quali times and so for Round 4 A Kirkpatrick(P1), Burgess(P2), Jackson(P5), B Ballard(P3), Campbell(P4), Dennison(P6), C Croker(P16), Tolley(P18), Donnelly(P20).
Race Report by Mark Paulson (edited by BW)
Mixed weather conditions in qualifying created an extra variable for the racers to deal with at the MG Car Club's second race meeting of 2021, at Oulton Park. Five of the club's championships were in action, each contesting two races, and they were joined by three series from Equipe Classic Racing. It was all played out in front of an appreciative crowd enjoying the newly-relaxed COVID restrictions that enabled spectators to watch the racing for the first time this year.
It is now four wins from four races for Sam Kirkpatrick as he maintained his 100% start to the season in the MG Trophy. Kirkpatrick and Fred Burgess (both in ZR190s) picked up where they left off at Brands Hatch in April, the pair duelling for supremacy throughout.
Kirkpatrick's race one win from pole position was the more straightforward of the two, although he lost a hard-earned two-second advantage to a mid-race safety car. Burgess then shadowed him to the chequered flag in the two remaining green-flag laps, ruing his compromise of a wet set-up with slick tyres on what had become a dry track after wet qualifying. After his run of bad luck at Brands a well deserved third in Class A was Patrick Booth.
Fergus Campbell impressed on his way to third overall and Class B victory in his ZR 170, earning the commentator selected Millers Oils Driver of the Race award in the process. He edged Tylor Ballard by half a second on the road, but Ballard's 10s penalty for a false start dropped him to fourth in class, behind Josh Bacon and Joe Dalgarno. Paul Croker (ZR 160) was set to win Class C, only for a final-lap excursion exiting Cascades to cost him dear and promote both John Donnelly to the win and Guy Tolley to second.
Two separate incidents on lap 2 brought out the Safety Car. Adam Jackson spun on his own oil, which ignited to add to the drama, whilst James Dennison ended his day's racing with holed engine block.
Campbell's lightning start allowed him to lead race two, and Burgess also jumped Kirkpatrick. The two ZR 190s quickly cleared Campbell and could barely be separated for the remaining nine laps of the challenging circuit. Kirkpatrick drew alongside on several occasions, but Burgess's defence held firm until Kirkpatrick squeezed inside at Cascades mid-race. But the Cumbrian couldn't shake off the Lincolnshire man as the pair traded new lap records four times, Kirkpatrick's winning margin of 0.6s being almost unrepresentatively large!
"I had to fight for that one," admitted Kirkpatrick. "I went for a few overtakes, but they weren't quite perfect ones. But then I got a bit closer through Cascades than I normally would, so I let off the brakes and hoped!"
"I knew what Sam was going to do," said Burgess, "but I didn't think he'd be able to hold the speed down the straight [from the tighter exit] but he got a mega run out of there.
"It was the most tired I've been in a race car – I knew about it at the end of the race!" he added, as both drivers had clearly enjoyed an exhilarating contest.
Adam Jackson completed the podium in his ZR 190, a great result after his first race had ended with an engine fire caused by a split oil filter housing. Doug Cole, fourth, also failed to finish the opener after a gearbox mount broke, snapping the driveshaft. Patrick Booth was fifth after his earlier class podium, both achieved after the wrong choice of rubber in qualifying left him 15th on the grid, having also been running in his new engine.
Tylor Ballard chased down Campbell, passing him into Cascades after getting a run out of Old Hall, to win Class B and also claim Millers Oils Driver of the Race honours, with James Cole taking third. Croker made up for his earlier disappointment with Class C honours, from Donnelly second and Tolley third.
Round 3.
Fastest Laps – A: Kirkpatrick 1:58.766 on lap 8, B: Ballard 2:03.861 on lap 8, C: Croker 2:09.347 on lap 7
Millers Oil Driver of the Race – Fergus Campbell
Round 4.
Fastest Laps – A: Kirkpatrick 1:56.392 on lap 8 (New Lap Record), B: Ballard 2:02.113 on lap 4, C: Croker 2:08.664 on lap 8
Millers Oil Driver of the Race – Tylor Ballard
Bruce Woods
MG Trophy Championship Co-ordinator
t: 07836 358300