RACE BULLETIN No. 1 – 6th May 2021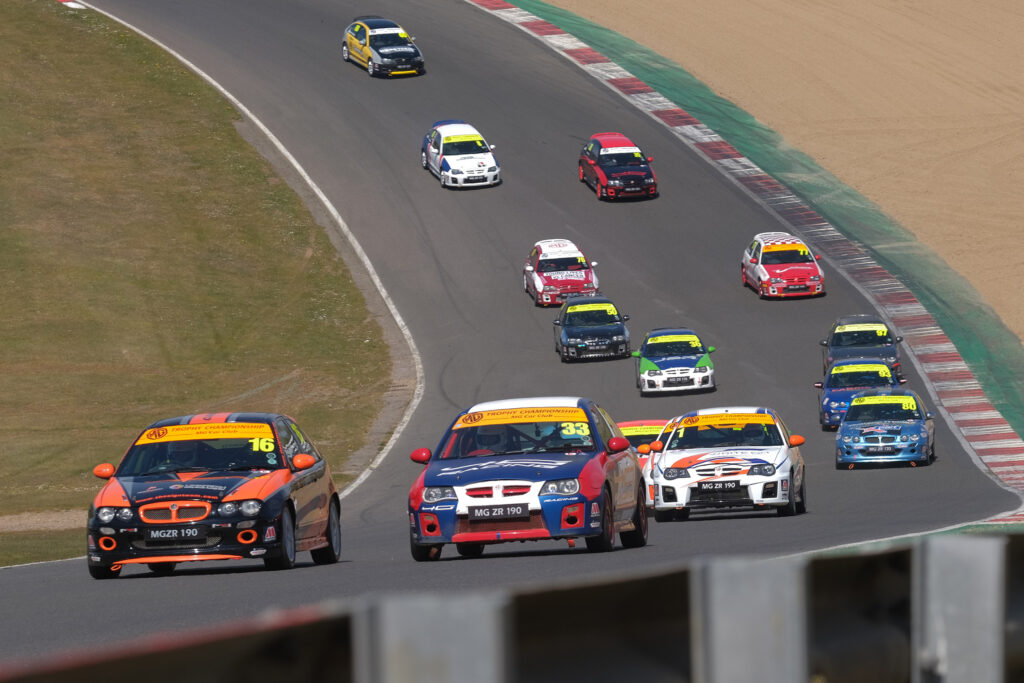 Brands Hatch Indy 24th April 2021
The Boretech Engineering MGCC MG Trophy Championship
With a gap of nearly nineteen months since the last Trophy Championship racing there was great enthusiasm from all quarters for the opening rounds of the 2021 season. 28 Driver Registrations have been received, and it was pleasing to have 19 entries for Brands Hatch, the Class breakdown being 7 Class A, 8 Class B, and 4 Class C.
Driver News
The Championship maintains a wide age range of competitors from 18 to 67, and also a good mix of familiar faces together with seven new drivers, five of whom were present at Brands Hatch; In Class B Jack Chapman (No.8), and Josh Bromley (No.97), and in Class C Guy Tolley (No.35), Andy Heitman (No.60), and James Moreton (No.78). Frustration was experienced in equal measures for the remaining two new comers, both in Class B; Keith Henley (No.30), who was unable to source a suitable size Race Suit in time, and Erick Lefebvre (No.66), who was unable to travel from France due to Covid restrictions. Moving to Class A this year is Adam Jackson (No.79).
Round Sponsor – Boretech Engineering
Rounds one and two of the 2021 Championship were sponsored by Boretech Engineering from Henfield in West Sussex. Boretech Engineering was founded in 1984 by new to Trophy Class C driver Andy Heitman, providing motorcycle engineering, cylinder reboring and crank rebuilding services.
Boretech has expanded its engineering services to include Automotive Engineering, block reboring, crankshaft regrinding and cylinder head machining for car, motorcycle and light commercial applications. Its well-established motorcycle servicing, repair, and motorcycle MOT facility, continues to grow alongside all the original engineering, preparation and restoration services.
Check out the Boretech website at www.boretech.co.uk
Testing
Thirteen cars made use of the Friday MSV testing option, although by mid-morning Patrick Booth (No.33) had experienced his first piece of bad luck for the weekend and was on the road back to the 4G base in Spalding for a replacement exhaust. In a later session, John Booth (No.50) had a rear quarter glass break and brother Patrick found his return journey to Brands interrupted by his second visit to 4G HQ. My observation from the groups of cars testing together was 2021 was going to filled with some very close racing in all three Championship classes.
Qualifying
The Trophy qualifying session was the second of the day, and every driver who had practiced Friday commented after that the track conditions had considerably deteriorated. In addition, Patrick's next piece of bad luck resulted in a gearbox seal failure, and some lubricant loss. (Doug Cole (No.99), however, stopped Patrick making another trip with the loan of a gearbox.) The frustration trackside was high, as TSL were unable to provide any live session data, and this was soon equalled on the track as six cars left the tarmac and brought out a safety car for four and a half minutes. At the end of the session only nine and half minutes of quali had been achieved. Eventually TSL provided the two race grids, and after adjustment for removal of times achieved after receiving assistance to regain the track, the starting positions were revealed. Top threes for Round 1 A Kirkpatrick(P1), Burgess(P2), Jackson(P3), B Dennison(P5), Campbell(P8), Dalgarno(P9), C Tolley(P16), Donnelly(P17), Moreton(P18). As always, the second race grid is based on second best quali times and so for Round 2 A Kirkpatrick(P1), Burgess(P2), Ross(P3), B Dennison(P4), Campbell(P5), Booth(P7), C Tolley(P16), Moreton(P17), Donnelly(P18).
Race Report by Graham Keilloh (edited by BW)
Sam Kirkpatrick (No.3) at Brands continued his strong form from last season by taking two wins from pole position in his ZR 190. And it was two young guns who fought for first in both races from the front row. In race one Kirkpatrick just held off his fellow young gun Fred Burgess (No.16), who also continued his good 2020 form. Burgess made many attempts to pass, including at Druids on the last lap, but Kirkpatrick clung on.
The MG Trophy's qualifying had been disrupted by many incidents as drivers reported the surface offered little grip at that point, and this resulted in a somewhat jumbled pair of grids. Doug Cole (No.99) was one who was impeded by this but he recovered to finish third in race one.
James Dennison (No.14) beat Fergus Campbell (No.31) to the Class B win, pipping him in a thrilling run to the line, and Dennison got Millers Oils Driver of the Race with it. Third in Class was Tylor Ballard (No.80). James Moreton (No.78) in his ZR 160 won the Class C race, from Guy Tolley (No.35) and John Donnelly (No.76).
Two non-finishers would see their day come to a premature end. Patrick Booth's final piece of bad luck for the weekend came on his tenth lap with a seized engine. Newcomer Jack Chapman (No.8) also finished his day on his seventh lap with what looked like a valve issue giving him only 3 cylinders. Jack was a late entry for the meeting, having actually only collected the Race Car from its previous owner on Monday evening!
Race two was a similar story at the front, though this time Kirkpatrick beat Burgess with a little more comfort, managing to get Burgess out of his slipstream.
"Good day, two good wins," smiled a satisfied Kirkpatrick. "The first one was a bit more hard fought, the second one was a bit more relaxed. In the first one I had a bit more understeer and didn't have much confidence. [Race two] it felt good, I had a bit more confidence and I could break the tow. We made no huge changes [for race two], I think the track might have been better, felt grippier.
"It was a good start to the season, hopefully more of the same next time! I think next time everyone will be more on it and it'll be quite close."
Burgess added: "It was a very messy qualifying, I felt like I had the pace to get maybe on pole. [In the first race] I put Sam under a lot of pressure, I had a really good car, good balance, good pace. I was hoping I could have the same in the second race but the balance wasn't quite right. Didn't quite have the grip, halfway through the race I settled for second. Maybe we've got to learn how to manage the balance of the car as the tyres fade away; I'm sure we will learn."
Adam Jackson – newly graduated to Class A – completed the podium, climbing from a 14th-placed start amid the disrupted qualifying. He finished eighth in the first race as he'd left the track avoiding the suddenly slowing fourth-placed Patrick Booth ahead whose car had seized.
Two-time MG Trophy champion Graham Ross returned to the contest in a left-hand-drive ZR 190, and his day was a struggle after a qualifying off. He only finished 12th in race one thanks to a tyre problem, while in race two he was fourth.
"It's a bit disappointing if I'm honest," said Ross. "Ever since the off in qualifying it's just been an uphill struggle, just trying to get the car right. In the first race it turned out to be a duff tyre, the rear left was always stepping out every right-hand corner. I changed the tyre and it was a lot better, but that second race was just frustrating, the pace wasn't in the car. Back to the drawing board!
"The front end of the car is not right, after the off in qualifying it hasn't got the right camber on, I think it's bent a crossmember or something. If it was right would I have been on the pace? I'm not sure, you get these weekends.
"In both races left-hand drive was fine. It took a bit of time yesterday in testing to get used to it."
Dennison made it a double Class B win in race two, winning by 9s ahead of Campbell and Dalgarno, and was also awarded Saturday's Driver of the Day. Moreton made it a clean sweep of MG Trophy doubles in this meeting by winning Class C's race two. He shadowed Guy Tolley for much of the distance and passed him to win late on at Druids. Third in Class C was John Donnelly. Moreton was also awarded Millers Oils Driver of the Race.
Round 1.
Fastest Laps – A: Burgess 54.493 on lap 19 (New Lap Record), B: Dennison 56.603 on lap 16, C: Moreton 59.777 on lap 20
Millers Oil Driver of the Race – James Dennison
Round 2.
Fastest Laps – A: Burgess 55.095 on lap 18, B: Dennison 56.570 on lap 7, C: Moreton 59.377 on lap 18
Millers Oil Driver of the Race – James Moreton
Driver of the Day – James Dennison
Bruce Woods
MG Trophy Championship Co-ordinator
t: 07836 358300