RACE BULLETIN No. 2 – 25th August 2019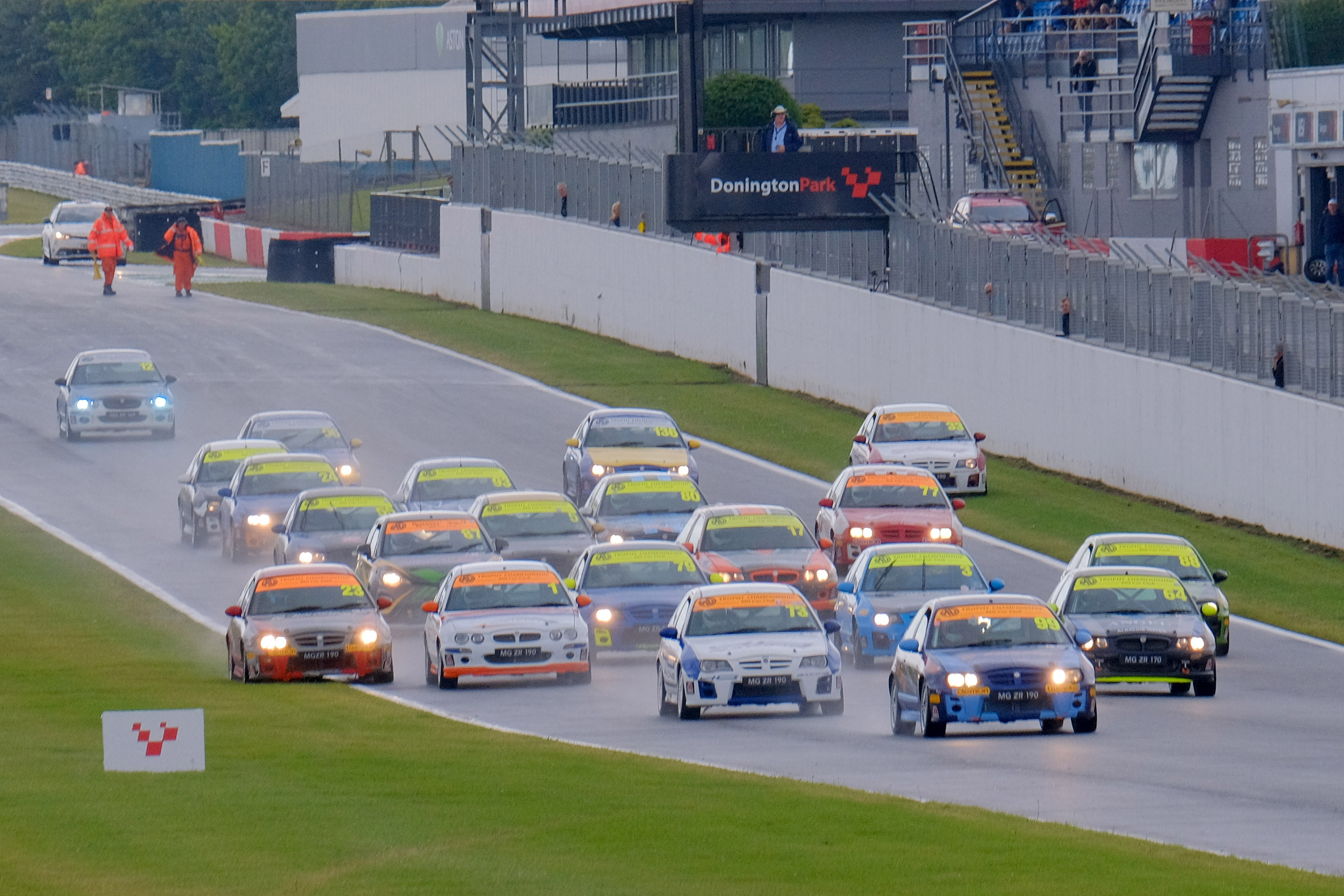 Donington Park 20th & 21st July 2019
The Vehicle Procurements Ltd MGCC MG Trophy Championship
With the resting of MG Live! for 2019 there had been a twelve week gap since the first two races of the Championship. As has previously been mentioned Championship registrations are significantly down on last year's figure with a total of 28. It was thus pleasing to have 24 entries for Donington, the Class breakdown being 7 Class A, 13 Class B, 3 Class C, and for the first time 1 MG3 190.
Driver News
A very welcome return to the Trophy was made by Colin Roberston (No.87), who brought his MG3 down from Perth for its first run in the MG Trophy. The car has been built by Colin with help from Doug Cole on custom parts (mainly suspension) using his previous MG ZR 190 engine. Considerable weight 'saving' has been done but the car is still 90 kgs heavier than a ZR. To make this car competitive in class A, where it grids amongst the other slick shod MG ZR, Colin is talking to Mark Stacey (K maps) re an ECU re map to give more power. Colin has gone down the existing K series VHPD route, but the championship regulations allow for 3 engine options up to 220 bhp. The first outing of this car was in the Cockshoot race at Oulton Park last year where it came 3rd.
New to the Championship for this year is Fred Burgess (No.17) in Class B. Fred is the son of last years overall Runner up Jason Burgess (No.16) and will be campaigning in Phil Tomlinson's car, while Phil takes a year out.
Also returning for their first 2019 outing were two drivers in Class B, Gianni Picone (No.5) and Matt Turnbull (No.64). Making a welcome return to Class C after two years out was Martin Webber (No.12)
Round Sponsor – Vehicle Procurements Ltd
Rounds three and four of the 2019 Championship were sponsored by Vehicle Procurement Ltd. Our thanks go to Malcolm, Mark and all the staff at their Nottingham base.
Testing
Many of the grid made use of the Friday MSV testing option. Of particular note was John Booth (No.50) Class B, who managed a gentle roll on to his roof, and starting a trend of what was to be a busy weekend for many. Friday evening the car returned to the 4G Spalding base and received the attention required from Ali and the team to make it ready for Saturday.
Qualifying
With the luxury of a two-day meeting the Trophy 15 minute qualifying began at 09:45, with the days somewhat unpredictable weather conditions currently dry. As the session reached its mid point the order in each class was A Makar, Ross, Booth, B  Kirkpatrick, Luti, Turnbull, C Croker, Bacon, Martin. Three laps later, Cole had replaced Booth for third in Class A, and Turnbull had taken second from Luti in Class B. Next Harris pulled off, and then Luti's engine expired which marked the start of a chain of events which would see a couple of engine builds and his missing of that days race. With a minute and a half of the session remaining the only change in order was to see Jackson take third in Class B from Luti. This order was unchanged at the session end, the six running Class A cars, followed by Robertson's MG3 in seventh and then the leading Class B car. Grids for the races were again formed in Class order, although this only really benefitted Harris and Dalgarno. Round 4 grid was based on second best lap times, the only top three difference from Round 3 being Burgess third in Class B.
Race Report by Graham Keilloh (edited by BW)
As the time for the race approached the weather had declined to cloudy, but still dry. Missing from the grid was Luti, still dealing with the expired engine from qualifying. Eight minutes into the race, with signs of the beginning of some rain, Harris experienced a brake issue at the Old Hairpin and on re-joining made contact with Marsh. This left Marsh upside down in the gravel, and brought out a Red Flag before the rain really set in. So began the third gigantic support effort of the weekend, which would see Marsh also return for the following days race. With the heavily deteriorated weather situation, and the cars held on the grid with their dry setup, Race Control made the decision to hold the remaining part of the race later in the day.
21 cars made the restart an hour and a half later, in what were now definitely wet conditions.
Reigning champion Graham Ross made it three MG Trophy wins from four this year by claiming both Donington victories. He prevailed in wet-but-drying race one – held over two parts due to a red flag – with a last lap outside-to-inside pass of Doug Cole through the Craner Curves.
"I am pleased, considering this weekend has been a bit experimental," Ross said, referring to a modified VVC head he was running for the first time, "but the wee thing has gone absolutely great. I can tick the box and say that one's a success. I like Donington, it's not one of these ones where I come with a negative attitude."
Cole got two second places from Donington, despite his gears jumping out in the second race, which let Ross past him at the Old Hairpin. "That's not an excuse, we should prepare them a bit better," Cole admitted. "I think I could have kept up with him if it'd been OK."
Double poleman Ross Makar had a frustrating time, as he dropped out of both races with blown head gaskets, which he suspected was due to gas getting into the engine and causing its water to overheat. Makar and Ross made contact at Redgate in race two as Ross went by shortly before Makar dropped out; though both drivers accepted there was nothing malicious in it.
Matthew Turnbull was Class B victor in both races, and got Driver of the Race as well as Saturday's Driver of the Day for his race one effort, where he finished third overall just 3.6s off Ross. He got the race two class win as well after Sam Kirkpatrick, who was holding Turnbull off, had a late-race engine blow up, ironically at almost exactly the same point of the track that he had a similar blow up in last year's Donington meeting. Kirkpatrick fell down in race one when he ran off at Coppice in wet conditions, not quite able to correct a slide. Adam Jackson was race two's Class B runner-up and got Driver of the Race. Joshua Bacon and Paul Croker split the Class C wins, after a broken throttle cable left Bacon stranded in the Assembly area for race 2.
Round 3.
Fastest Laps (from first part of race) – A: Cole 1:20.967 on lap 3, B: Kirkpatrick 1:23.473 on lap 3 (New Lap Record), C: Bacon 1:28.327 on lap 2, MG3: Robertson 1:25.537 on lap 3 (New Lap Record)
Millers Oil Driver of the Race – Matthew Turnbull
Driver of the Day – Matthew Turnbull
Round 4.
Fastest Laps – A: Ross 1:20.365 on lap 10 (New Lap Record), B: Turnbull 1:22.993 on lap 11 (New Lap Record), C: Croker 1:26.519 on lap 6, MG3: Robertson 1:23.347 on lap 8 (New Lap Record)
Millers Oil Driver of the Race – Adam Jackson
Bruce Woods
MG Trophy Championship Co-ordinator
t:    07836 358300
e:   Trophy@mgzrx.com