RACE BULLETIN No. 5 – 11th September 2018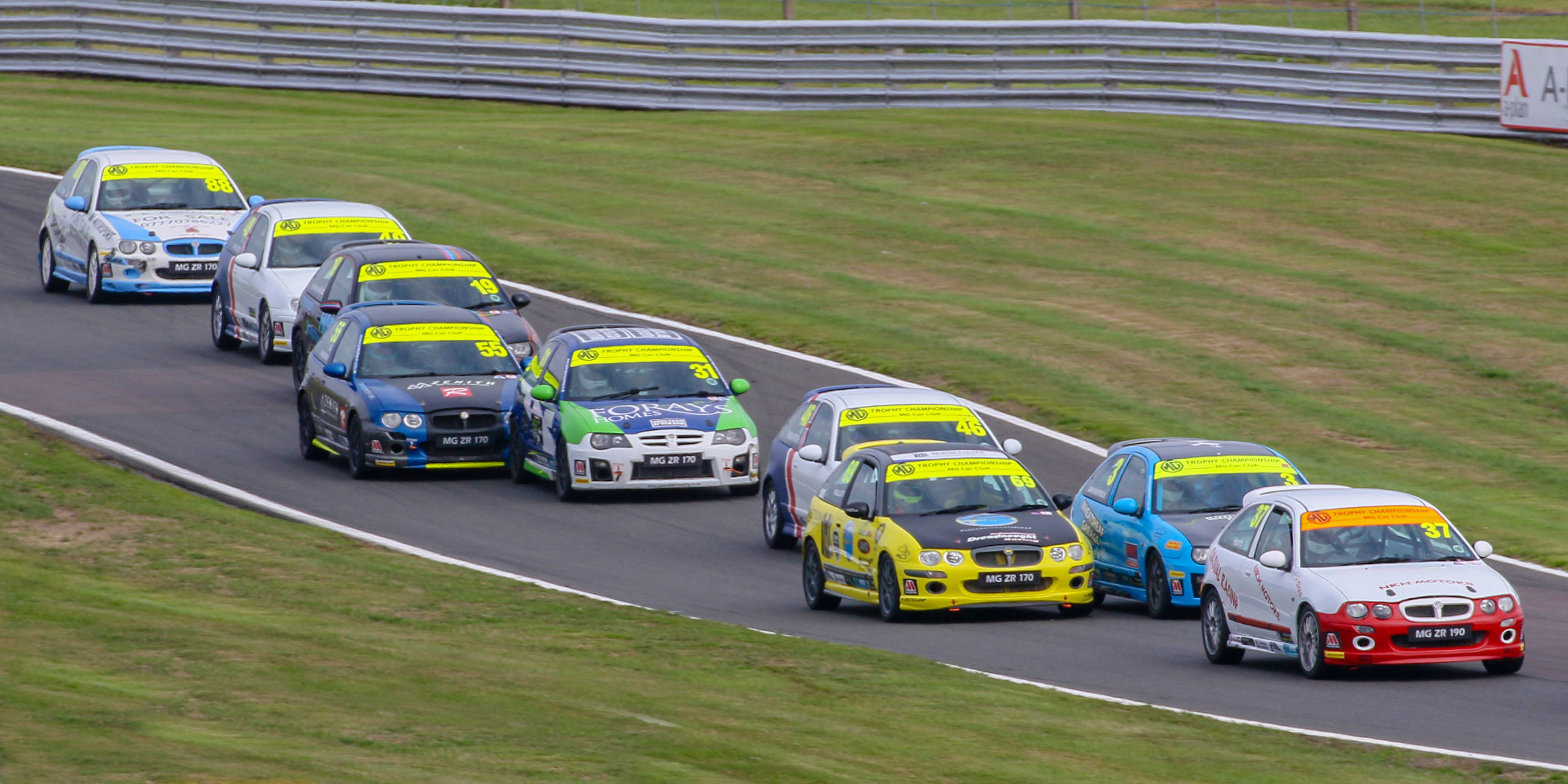 Oulton Park 1st September 2018
The Knight Industries MGCC MG Trophy Championship
Oulton Park is another circuit where the events of previous years give the Co-ordinator and Competitors plenty to think about in the build up to racing. Never the less, the initial intention of 30 entries made the Trophy grid the largest in the programme, the Class breakdown being 7 Class A, 17 Class B and 6 Class C.
Driver News
Mike Harris (No. 37) has been busy since the last rounds at Donington Park, and with assistance from Doug Cole (No. 99) of DC Motorsport, has decided to move to Class A for the remainder of the season as he fancied driving a car with a LSD again, and has always wanted to try racing on slicks.
New to Class C at Oulton Park was Josh Bacon (No. 136.) Josh, just turned 19, from Horsham, West Sussex, is competing in the Kent Karting Championship (Senior Clubmax) this year and currently lies in second place with one round to go. Josh has purchased Tony Jones car which finished third in class last year.
Also worthy of mention Ray Ferguson (No. 10), the Championship's most senior competitor completed his eighth MG ZR race in five days at Oulton Park, proving age is no barrier to competition.
Round Sponsor – Knight Industries
Rounds nine and ten of the Championship were sponsored by Knight Industries. Knight Industries, of Uttoxeter, Staffordshire are the first UK company to offer both performance tuning and body styling upgrades for the MG3, MG6, MG GS and MG ZS. Whether it's a simple replacement panel filter, right up to a complete performance enhancement package, Knight Industries can make a difference to your MG. Concentrating on looks, style, performance, braking and suspension, Knight Industries have teamed up with some of the top UK companies to bring you the best choice for your MG. Knight Industries have a superior knowledge of the new MG models and can offer help and advice should you have some technical queries that a dealer may not immediately have an answer to.
Testing
Again the Friday MSV open pit lane testing was very well supported by The Trophy. As an alternative to the delights of a Friday afternoon on the M6 this you would think a better option, but some were left to contemplate this more closely. First to suffer was Sam Johnston (No. 24) when his bottom end let go. Up next was Josh Bacon, after his first ever couple of hours in the car with a circuit instructor Josh experienced a bonnet retention pin failure requiring the services of Autoglass to replace his screen. Andy Spencer shattered the crank on the 4G Class A car, and finally John Booth required a Head Gasket change on the 4G Class C car. Josh and John would go on to compete, Sam and Andy would not.
Qualifying
Being scheduled as first race of the day means the Trophy cars were first on track to qualify at 08.30. Time keeping was kept busy with a number of laps being disallowed due to track limit infringements, a point made very clear in the subsequent Drivers Briefing! After 3 laps the leaders were Kirkpatrick(B), Wetton(A), Ross(A), Roberts(B), Butler(B), and ninth Burgess(A). In class C the order was Ballard, Dalgarno, and Booth.
With 5 minutes remaining Class A had moved to the top, with the order Ross, Burgess, and Wetton. Class B was now Kirkpatrick, Turnbull, and R Firth. Class C remained Ballard, Dalgarno, and Booth.
The session ran to its full time the final order being A: Ross, Burgess, Cole. B: Kirkpatrick, Turnbull, R Firth. C: Booth, Ballard, Dalgarno. Second best times were the same order for Class A and Class B, but for Class C: Ballard, Booth, Dalgarno.
Race Reports by Graham Keilloh
Round 9.
Jason Burgess won both The Knight Industries MG Trophy races and in so doing took maximum advantage in the championship table. (Co-ordinators Note: Once the effect of not dropping non zero scores is taken into consideration this is not the case!) Championship leader heading into the meeting Graham Ross led the first race from pole with Burgess in second seeking a way by. The pair touched at Old Hall second time through leaving Ross in the barrier and Burgess dropped behind new leader Gary Wetton. Burgess then got by Wetton at half distance for a lead he wasn't to lose.
And Paul Luti in Class B, who was second to Ross in the overall championship, also didn't make the end of race one as his brake pedal went to the floor leaving him in the gravel. Luti had also been unhappy with his brakes in the previous two rounds at Donington and Silverstone, and his problems included air getting into the system as well as issues with the pads.
Luti in the first Oulton Park race had been in locked in a tight scrap for Class B honours, which was won by Ryan Firth in third place overall and Firth with it got Driver of the Race. He just pipped Sam Kirkpatrick for the class win with Mike Harris, who was third in Class A, also in close proximity between the pair. Kirkpatrick dropped to third in class afterwards, behind Tom Butler, due to a five second penalty for track limits being applied.
Tylor Ballard continued his run of Class C wins stretching back to his Brands Hatch crash earlier in the year, consigning Class C table leader John Booth to second place four seconds adrift. Josh Bacon managed a third place finish in his first race.
Fastest Laps – A: Wetton 1:58.202 on lap 9, B: Kirkpatrick 2:01.658 on lap 7 (New Lap Record), C: Booth 2:07.713 on lap 3
Driver of the Race – Ryan Firth
Round 10.
The damage from his race one off meant that Ross was unable to take part in race two and Burgess again took advantage by winning. He led from lights to flag though had to resist close attentions from second-placed Doug Cole for the entire distance, particularly after a period when the safety car boards were displayed then withdrawn before the pack had formed up, in which time Cole moved a little closer to the leader. Wetton followed them home in third, four seconds adrift.
"Over the moon," said Burgess after his double win. "Really happy with the second race, it was a clean fight. Kept honest by Doug, as he always does, we were both throwing everything at it and we were pretty even.
"I was looking forward to the chequered flag – it seemed to go on forever and ever!"
"My early lead was because I managed to get a break away, I think Doug had got someone behind him and I worked extra hard to get the tyres warm, up to pace, and I was very confident from the word go."
Race two's Driver of the Race award went to fourth-place finisher Harris for upping his pace and staying well up the road from the Class B pack that time.
Burgess also made gains in the overall championship in race two as Firth finished third and Luti fourth in Class B behind class winner Kirkpatrick and second-placed Matthew Turnbull. The quartet had a close battle for class honours though the mentioned safety car board intervention had the effect of spreading them out a little.
Ballard again led home Booth in the Class C race, this time by two seconds, Bacon again taking third.
Fastest Laps – A: Burgess 1:57.786 on lap 9, B: Firth(R) 2:01.323 on lap 5(New Lap Record), C: Booth 2:07.615 on lap 5
Driver of the Race – Mike Harris
Bruce Woods
MG Trophy Championship Co-ordinator
t:    07836 358300