RACE BULLETIN No. 4 – 16th August 2018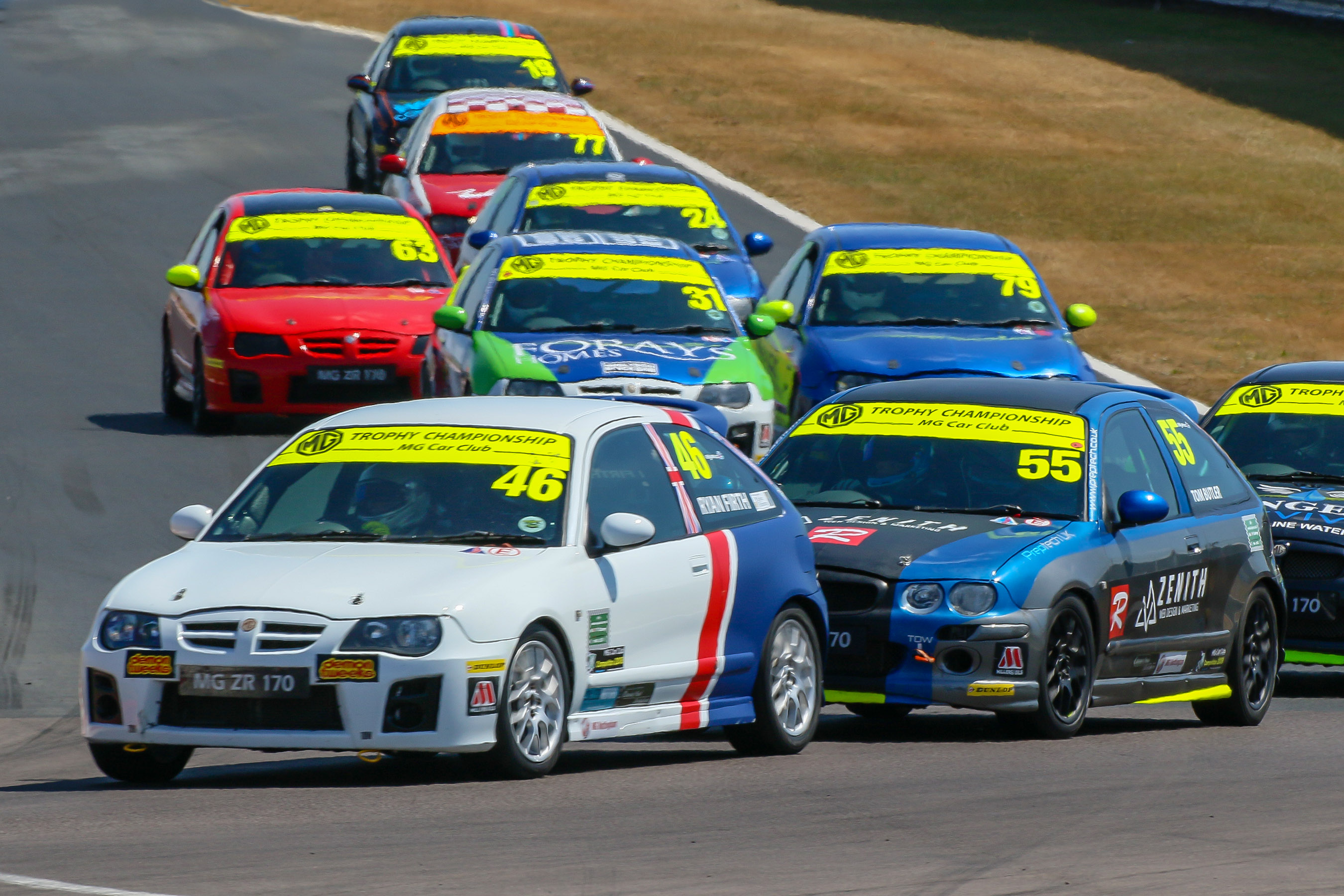 British Sports Car Weekend Donington Park 14th and 15th July 2018
The MG Nottingham MGCC MG Trophy Championship
The inaugural British Sports Car Weekend, a new initiative jointly run by the MG Car Club and the Morgan Sports Car Club, was a chance for MG Racing to move from the traditional race meeting format and try a few new concepts in order to build an event packed full of FUN for wider appeal.
Early indications suggested a grid of 32, but work and family commitments (and the inevitability of not being able to stretch time!) finally reduced this to a still healthy 29, the Class breakdown being 6 Class A, 18 Class B and 5 Class C.
Some unfortunate planning by my cousin, who has performed start line duties in Orange for MGCC in the past, resulted in Best Man duties for me, which consequently delayed my attendance at Donington until Sunday. All reports I have had, and media I have seen, about the Saturday Grid Walk have been very positive, with one or two notable 'outstanding' team performances. Well done to all who entered into the spirit of a FUN event.
Returning Drivers
Returning to the MG Trophy Championship at Donington, his local circuit, after the disappointment of a round three crash at Brands Hatch which wrote his car off was Andy Firth. The new car was built with the assistance of son Ryan (No. 46) and fellow competitor Simon Byrne.
Round Sponsor – MG Nottingham
Rounds seven and eight of the Championship were sponsored by MG Nottingham. MG Nottingham are a family-based dealer from the Mapperley area on the north side of the city. They are the first MG dealer to respond to a sponsorship request in over four years, and the MG Trophy is really proud to be associated with them. The team is led by Malcolm Ledgar and Mark Campbell, and ably assisted by Chris Lacey. Car sales are handled by Mollie & Jessica Clark, and Nicola Ledgar.
Qualifying Report by Pete Macwaters
The Trophy cars were second out on track for their qualifying session at 09.28. After 2 laps the leaders were Turnbull, Butler, Roberts and Kirkpatrick. The first 190 was Payne followed by Walker, Cole and Ross. In class C the order was Booth, Gill, Heasman and Dalgarno.
Spencer had rear bumper problems and was given the black and orange flag to call into the pits. There was a problem removing the loose bumper which lost him considerable time.
After 5 laps the order was Ross, Burgess, Payne, Cole and Walker. The class B front runners were Luti, Kirkpatrick, Turnbull, Butler and Roberts. Class C was led by Booth, Ballard with Dalgarno and Heasman next in line.
With 5 minutes remaining Burgess led from Ross with Cole, Payne and Walker next up. Class B was as before with Luti leading from Kirkpatrick, Turnbull and Butler and Booth, Ballard, Dalgarno and Heasman in class C.
The session was red flagged at 09.39 due to oil on the track at Coppice following Kirkpatrick's blow up which sent 5 cars spinning off. Due to his lost time Spencer was unable to post a fast lap and ended up in P27.
Race Reports by Graham Keilloh
Round 7.
In the opening MG Nottingham MG Trophy race Graham Ross claimed his fourth win in a row, just beating Jason Burgess who returned to action after missing Silverstone. Burgess led from pole but Ross seized the lead at half distance by getting up the inside at Redgate. Burgess stayed on his tail for the rest of the way and Ross won by half a second. Doug Cole finished third despite a Redgate spin on oil from two earlier blow ups as well as gearbox struggles.
Paul Luti kept championship pace with Ross by taking race one Class B victory, winning out in a fight with Tom Butler and Driver of the Race Sam Kirkpatrick – whose team changed his engine to an old unit in double-quick time after a qualifying blow up due to Kirkpatrick selecting the wrong gear, also several cars went off on his oil. In reality Luti's win was comfortable as both Butler and Kirkpatrick got time penalties for track limits – Butler had five seconds added and Kirkpatrick 15 seconds for two offences. Tylor Ballard meanwhile made it three Class C wins in a row.
Fastest Laps – A: Ross 1:20.774 on lap 6 (New Lap Record), B: Kirkpatrick 1:23.886 on lap 7 (New Lap Record), C: Ballard 1:28.850 on lap 10
Driver of the Race – Sam Kirkpatrick
Round 8.
Ross made it five wins on the trot by winning the second race too, again from Burgess. It was more comfortable than race one as Burgess had to ease off to cool his brakes at mid-distance after a spell of pushing them hard trying to force leader Ross into an error. Ross also got to the top of the championship table as Luti slid off at McLeans trying to take the Class B lead from Fitzpatrick on the outside, and got beached in the gravel. Kirkpatrick helped himself to the class win ahead of Ryan Firth and Driver of the Race Butler, while Ballard extended his Class C winning run to four.
"I'm chuffed as chuffed can be," said Ross afterwards. "Jason kept me really honest. Then I seemed to be able to eke out a wee bit; then it was just a case of not doing anything silly."
Fastest Laps – A: Ross 1:20.767 on lap 7 (New Lap Record), B: Firth(R) 1:24.035 on lap 8, C: Dalgarno 1:27.651 on lap 4
Driver of the Race – Tom Butler
Bruce Woods
MG Trophy Championship Co-ordinator
t:    07836 358300