RACE BULLETIN No. 5 – 5th September 2017
Oulton Park 2nd September 2017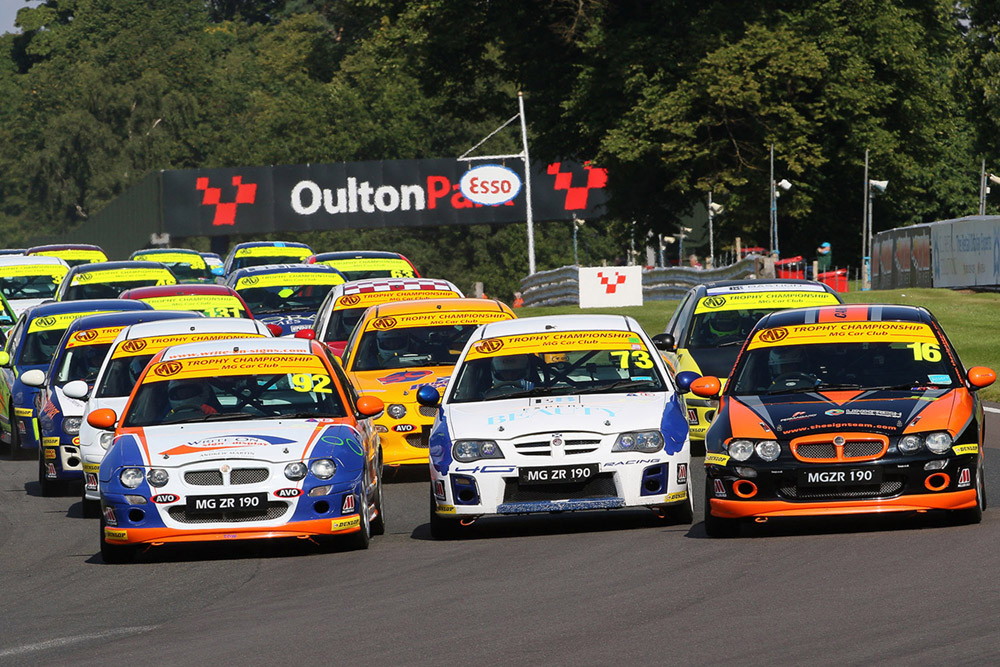 The excitement of filling all 38 places on the Oulton Park grid was brought into perspective with the news of the death of our driver Andrew Martin on the 25th August, our thoughts go to his ex-wife and family. All the drivers wore black arm bands out of respect.38 places were filled prior to the meeting but two withdrawals dropped our total to 36, still another 'best ever' #MGTrophyBigGrid lives on!
This meeting saw the return of Fergus Campbell for his first race of the season and we welcomed ex BCV8 MGB driver Mark Scott as a guest, who wanted to give fwd a try. Our fantastic friends at John Woods Motorsport were supporting us once again at Oulton Park, their local circuit, huge thanks to John, Adam and Mark and all at JWMC.
Testing
The usual Friday test sessions were available and no less than 21 cars were present, more than half actually testing at some point. Dramas included Payne with a fire due to an oil leak but no apparent damage was noted at the time. The first session after the lunch break saw Butler with a hole in the block but all the internals appeared to stilll be inside? The Preptech team were soon in full engine swap mode but Butler's testing was over for the day. Patrick Booth had a new clutch fitted and Burgess kissed the barrier and fitted a new front wing. Luti was out in his new car having been made an offer he couldn't refuse for his old race car!
Qualifying
Despite the usual last minute 'panics' all 36 cars made it out on track for the second qualifying session of the day at 08:54, conditions:- sunny/dry. Unfortunately Heasman was out before completing one lap and Coles and Cruttenden followed a lap later, Cruttenden into the tyre wall at Druids. After 2 laps the order was Makar, Robertson, Wetton and Ross in class A and Luti, Campbell, Marsh and Picone for class B. Spencer was well placed in 10th as the front runner in class C. Andy Firth did 3 laps before pulling in with alternator problems. At 4 laps the order had changed and Makar was followed by Burgess, Ross, Robertson and Wetton. Wray, Campbell and Luti headed class B and Spencer still held onto class C with Turnbull, Croker and Booth next up. After the 15 minutes, Ross took the class A pole with Makar and Burgess filling the top 3, Luti just held the class B pole from Jackson and Campbell and Spencer held Turnbull to take the class C honours with Croker a distant 3rd.
Heasman and Coles were allowed to take their grid positions because they had raced at Oulton less than a year ago (just!) but Cruttenden had to qualify out of session. Heasman's misfire was causing him grief and Coles had the same problem. Martin's bottom pulley had come loose on his last lap with the usual consequences ! Despite a lot of effort all three of these cars were unable to take the first race start along with Payne who was experiencing problems associated with the loss of oil from testing.
Race 1
32 cars started race 1 at 12:10 but two separate incidents along Lakeside on the opening lap saw Wray crash heavily into the barrier and marshall post 7 on the outside of the circuit and Picone off after clipping another car on the inside of the circuit and rolling several times. The race was immediately red flagged, both cars seriously damaged. Proceedings were halted and the lunch break was brought forward as both drivers were taken to hospital and repairs to the barrier were made.
In the interval several drivers made repairs that had been the result of taking avoiding action in the earlier incident. Harris made a repair to his rear left hub that had been knocked out of alignment and the DC Motorsport team attended to James Cole's car replacing the front cross member and resetting the wheel alignment. The Marsh car had considerable damage to the drivers side.
Race 2
With both the Wray car and the Picone car now out and the original 4 others still not race ready for various reasons the grid was now down to 30 cars. The second race started at 17:07 with all races now reduced by 2 minutes. Conditions:- cloudy/dry.
Class A
Burgess was out before completing a lap with a broken drive shaft. Makar was first after lap one with Ross in close contention with Robertson a second adrift and Cole in fourth. Robertson and Ross swapped places on lap 3, Cole moved up to 3rd on his next tour but was back down to 4th a lap later! Ross got passed Robertson at Old Hall on the penultimate lap and despite enormous pressure Makar took the well deserved win, the first 4 class A cars all within a second at the flag!
Class B
With Wray missing Campbell was first at the end of the first tour with Jackson, Cole, Luti, Roberts and Ryan Firth in line astern. Luti was up to 3rd on lap 2 but pulled into the pits a lap later with an odd brake problems that had seen him have a few scary moments. Cole was out a lap later leaving the order Campbell, Jackson, Roberts and Firth. These held to the flag, Butler and Marsh rounding out the top 6.
Class C
Spencer took advantage of his excellent grid position to lead the rest of the class C runners by several places at the end of his first tour. However by lap 4 Turnbull was within sight of Spencer and pushed on to reduce the gap with Croker next up and John Booth in 4th. Cruttenden was out on lap 6 into the barriers which resulted in the race time being reduced by a further 2 minutes. At the finish Spencer took the win with Turnbull less than a second behind and Croker 3rd having smashed the class C lap record on his last lap 0.3 secs adrift. Booth, Ballard and Jones completed the class C finishers.
Fastest laps  Class A was Cole 1:57.637 on lap 6, Class B, Campbell 2:02.504 on lap 8, Class C, Croker 2:05.711 (n/r) on lap 8.
Driver of the Race Graham Ross