RACE BULLETIN No.3 – 21st June 2017
Silverstone – MG Live 17/18th June 2017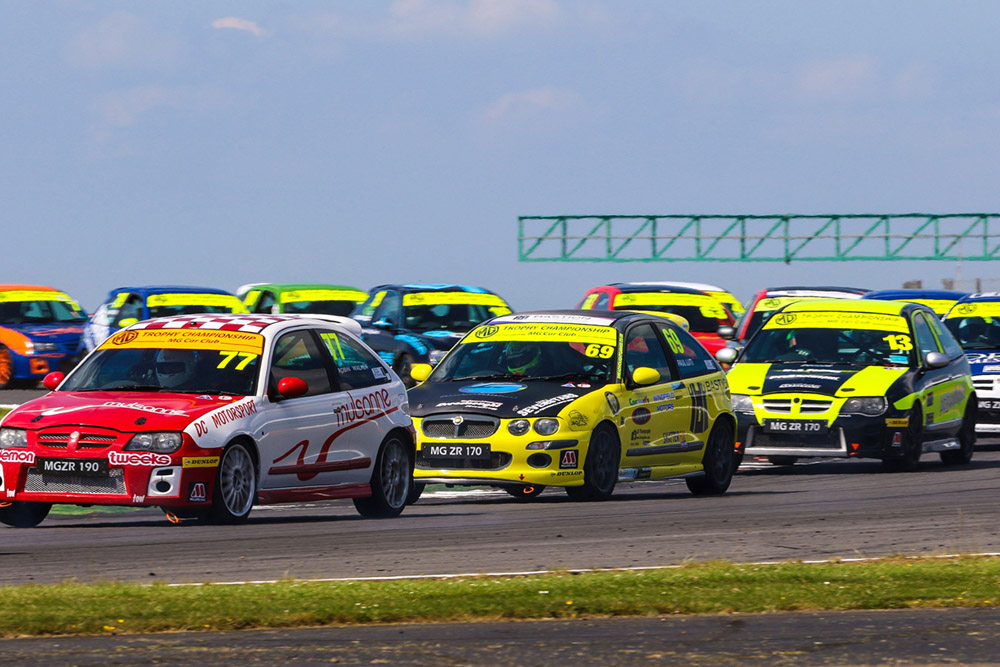 This was billed as #MGTrophyBigGrid and thanks to those who really helped to make this a very special event for me, you know who you are and you didn't disappoint ! I initially set a target of 40 cars but this soon looked too easy with 45 entered at one point and a few more that would have liked to attend but couldn't for various reasons. 50 could have been possible, maybe next year what about #MGTrophyBigGrid2018?  Considering the disaster we had at Brands to get 8 cars re-shelled in time was brilliant work by many of you, good job we had the 7 week gap ! Welcome to new drivers Rob Griffiths and Sam Johnston, and guests Andy Mollison, Danie Van Niekerk, Alastair Rushforth, Julia Penfold, Dan Surridge and Jake Fraser-Burns.

Testing
There was the usual test day on the Friday and I counted 22 Trophy ZR's on track at some point during the day. It was a very hot day with two 45 minute sessions in the morning and two in the afternoon, no times were noted due to the change in circuit configuration between the Friday and the race weekend, this caught a few drivers out and I usually remember to mention this, sorry. Excitement, if that's the word, was there from the get go with Ross Makar's car on fire at Club in the first session due to an oil leak, the 4G team did a good job to get the car cleaned up and it was apparently none the worse for it's fiery escapade! The Preptech team changed the exhaust on the Butler car due to a collapsed cat, not the first time we've had this happen. Gary Wetton's rebuilt car was having the last details finished off, decals delivered courtesy of our supplier, driver Graham Ross, of "Write on Sign & Display". Newcomer Sam Johnston was having cooling issues (as were we all on this very hot day!). Andy Firth made a mess of his car as he introduced it to the tyre wall but set to in good spirits to get it straight again. The 4G team found the fire had caused more problems than originally anticipated and had to replace the front left damper. 

Qualifying
In the end 42 cars made it onto track at 10:33 for the slightly earlier 4th qualifying session of the day. The early pole sitter was Wetton followed by Butler, Mollison, Roberts, Coles, Byrne and Hood. At the half way point the order was Ross, Burgess, Roberts, Wetton, Luti, Mollison. Burgess then went top with Ross, Robertson, Wetton, Cole, Luti and Mollison next up. Ross & Burgess swapped places at the top and after the 8 laps the order was Burgess with a 2:26.486, Ross, Robertson and Cole (D) the 190 cars taking the top 7 places as expected. The top 170 class cars were Luti, Mollison and Roberts and the 160 class was headed by championship leader Turnbull with Spencer and Croker next in line. The #164 two driver car saw Penfold out first before a quick driver change to allow Surridge to do his  mandatory 3 laps. Johnston didn't complete his 3 laps due to a buzzed engine, the head was changed and he qualified out of session on the Sunday morning. I spotted a few familiar faces changing the engine on the Fraser-Burns car. The 4G team decided to replace the wiring loom following the earlier fire on the Makar car due to a disappointing performance. Ross replaced his oil filter housing having discovered a crack.
Race 1
The Saturday race commenced at 15:20 just 5 minutes adrift of the timetable, conditions reported as bright/dry. 41 cars started the race, Johnston sitting it out until he could qualify tomorrow.
Class A
Pole sitter Burgess had a poor start and lost several places as Ross stormed into the lead from the inside of the front row, at the end of the first lap he was already over 3 seconds ahead of the 2nd place man Robertson with Makar already up to 3rd, Wetton 4th, Walker 5th and Cole down in 6th. Burgess started his recovery and was up to 5th at the end of his 2nd tour and 4th by lap 4 as Ross's lead extended to 4.7s. Cole retired on his 4th tour with gear linkage issues. Ross continued to increase his lead his car going better than ever, two laps from the end he was 5.4s in front of Robertson when he hit oil at Copse dropping him back to 2nd gifting the lead to fellow countryman Robertson who was missed by the Chief Flag at the race end but soon discovered the race was indeed over. Ross reluctantly accepted 2nd and the recovering Burgess got his just rewards with 3rd after clinching the fastest lap. Wetton claimed 4th just 0.7s ahead of Makar. 

Class B
Class B pole sitter Luti lead the pack of 24 cars into Copse and held his lead despite enormous pressure from Rogerson and Roberts, Mollison and Van Niekerk not far behind. Butler who had been running in 7th was out on his 2nd tour with no brakes. Byrne was out with a blown engine on his 4th tour. The order at the half way stage had changed with Hood joining the train in 5th slotting in between Mollison and Van Niekerk. Rushforth was out on lap 6 at Brooklands with a blown engine and Fraser-Burns a lap later with the same. The top 3 held station as Hood took another place on the last lap to clinch 4th as he passed Mollison, Van Niekerk calling it a day on lap 8.
Class C
Spencer made a good start to lead pole man Turnbull on their first tour and held onto the class C lead for 7 laps but championship leader Turnbull made his move on lap 8 to take the lead and the race win by just 0.3s. Behind them Cruttenden and Croker swapped places several times in a tightly fought race for 3rd this eventually going to Croker with Cruttenden taking 4th and Jones 5th. Newcomer Griffiths was out at the Loop after completing 5 laps.

Fastest laps  Class A was Burgess with a 2:27.061 on lap 4. Class B was Mollison with a 2:32.939 on lap 3 and Class C, Turnbull on lap 5 with 2:39.964.  
Driver of the Race & Driver of the Day Paul Luti.
Overnight, Wetton replaced his fuel pump and Marsh did the same. Doug Cole's problems were due to gear linkage issues which were rectified. On the Sunday morning, Johnston qualified out of session so was able to start his first ever race.
Race 2
With Byrne and Fraser-Burns not able to race but with Johnston added, 40 cars took the Sunday race start at a slightly later time of 12.50. Conditions noted as bright/dry.
Class A
Pole sitter Ross made another good start with Robertson in close contention. Burgess was left stranded on the grid as the rest of the pack drove around the stationary car. At the end of lap 1, Cole, Makar, Wetton and Walker filled the remaining class A places. Lap 2 saw Robertson in trouble as he dropped back to 5th, his race over a lap later. A stricken class B car at the Wing brought out the safety car for two laps leaving a three lap dash to the flag. Cole got to within 0.2s of Ross but Ross held on to take the win he should of had in race 1, Cole taking 2nd, Makar 3rd.
Class B
Rushforth drove into the pit lane at the end of the green flag lap electing to start from the back. Payne was pushed off the grid with drive shaft failure. Mollison's class B pole evaporated as Rogerson, Luti, Roberts and Jackson led the field. Rushforth and Butler joined the retirees on their third tour. Butler's predicament at the Wing brought the safety car out which slowed down proceedings. At the restart the order was still the same but Hood joined the five car train and at one point was up to 2nd. Van Niekerk faltered on the last lap with fuel pump problems dropping back from 5th place. A fantastic recovery drive by Mollison saw him take 3rd at the flag behind Rogerson and Luti, Hood 4th, Jackson 5th.
Class C
Spencer made the better start from the class C front row and at the end of the first lap just lead Turnbull, Booth, Croker and Jones next in line. As the safety car intervened Ballard had worked his way up to 5th. Lap 7 saw the demise of Jones and Heasman, at the flag Spencer took a well deserved first class win with Turnbull less than half a second behind. Croker held on to 3rd, Booth and Ballard rounding out the top 5.
Fastest laps  Class A was Ross 2:27.585 on lap 8, Class B, Van Niekerk 2:33.595 on lap 7, Class C, Turnbull 2:38.825 on lap 2.
Driver of the Race Andrew Rogerson