RACE BULLETIN No. 2 – 2nd May 2017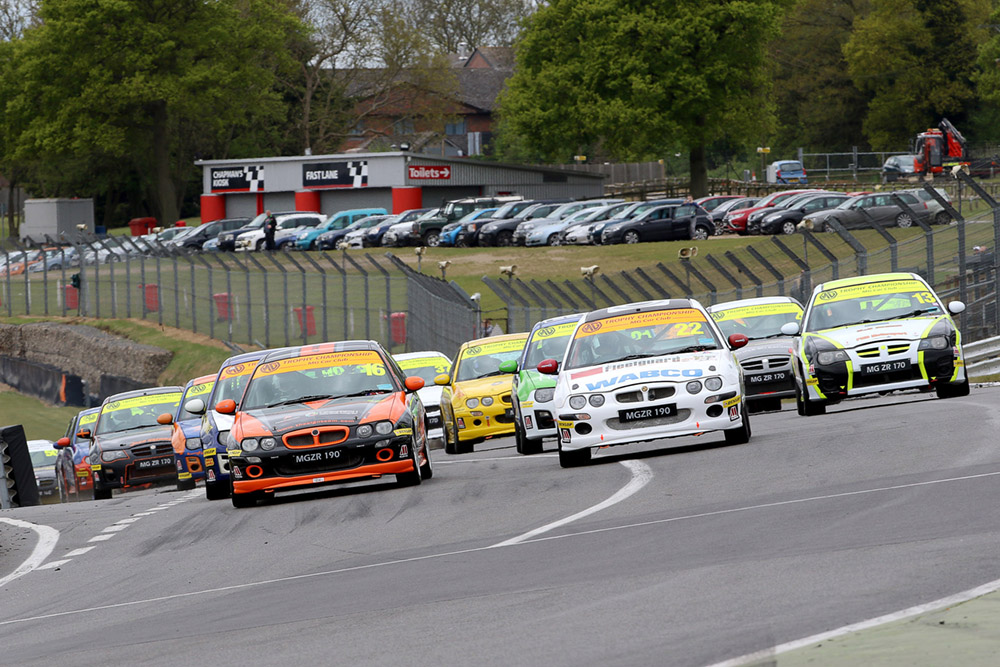 Brands Hatch29/30th April 2017
Brands Hatch has always produced some of our most exciting races on the tight Indy circuit, this year was no exception! Thirty one cars were entered but without several 'new' drivers able to be present, a grid maximum of 34, which would have been feasible, was down to 31, this was a bit disappointing but I always strive to get as many racing as possible.

Testing
There was the usual track day on the Friday and I counted 17 ZR's all but two being Trophy cars. Because there were so many ZR's there were dedicated ZR sessions, two 30 minute sessions in the morning and two in the afternoon. At times it looked like a Trophy race with so many out on circuit at once, it was a dry day after a damp start and most were posting good times. Newcomer Tylor Ballard, son of our Donington race sponsor Simon, was out of luck with a blown engine after just 10 laps however a spare was soon on its way and it was fitted by late on the Friday evening. Burgess's run of bad luck continued with more intermittent problems despite logging a 55.2s lap. In the first of the afternoon sessions Piccone's car was towed in after losing all power only to find a hole in the block !

Qualifying
Late entry new driver Sam Johnston had to pull out as his car wasn't finished in time and Tim Martin had to withdraw dropping our total to 29. Piccone's car was fitted with a new engine as was Ballard's car enabling all 29 to take the qualifying start at 09:25. Early pace setters were Roberts, Makar, Payne, Butler, Rogerson, Wetton and Marsh. Spencer put in a great early lap seeing him in P8 for a while. The order changed at 5 laps to Makar, Roberts, Butler, Cole(D), Payne, Byrne, Wetton and Luti. In the 160 class Turnbull and Spencer were swapping places, both showing almost identical times. Cruttenden, Hood and Firth (A) called in at the pits before a red at 09:33 halted proceedings while Hood who had gone off, slowly drove back to the paddock. The session continued at 09:37 with 5 more minutes allowed for drivers to log their best laps. Wetton dropped down the order to P10 as his slicks cooled waiting for the restart leaving the order as Burgess, Makar, Cole (D) and Walker however Wetton resumed his previously higher position and posted P4 on his 11th lap, Walker dropping to P8 as Luti, Roberts and Firth(R) filled places 5, 6 & 7. Turnbull pipped Spencer by 0.07s to take the class C pole, these two in front of 3 class B cars. Piccone was out having only completed 4 laps and Ballard was towed in after completing 11 laps.
Piccone's bad luck continued when a broken piston was discovered on number 2 cylinder and Ballard's problem was a blown fuse. The DC Motorsport team were having gearbox nightmares with problems for all the 3 team drivers.
Race 1
Hood's problem was due to an ABS sensor fault and a replacement was fitted. Two of the DC Motorsport cars had gearbox changes consequently, without Piccone, 28 cars made a slightly earlier race start at 13:15, conditions reported as Bright/Dry.
Class A
Pole sitter Burgess was off at the bottom of Paddock Hill Bend after missing a gear and being contacted by Makar and Cole and rejoined dead last as the whole pack stormed past. Cole(D) from the 2nd row got a great start and was first at the end of lap 1 with Wetton close behind. Makar had a poor start and was already down in 11th behind Walker. Burgess started his recovery and a storming drive saw him working his way up through the field. Wetton stayed with Cole and pushed him hard eventually squeezing past on lap 7 to take the lead, by this time Makar had recovered and was up to 3rd, 2.3s adrift. Cole now took over as the hunter and he was back up into P1 on lap 9, Wetton and Makar just inches behind. A mistake on lap 11 let Makar through to take the lead with Wetton following to demote Cole down to 3rd as he missed a gear. Wetton and Cole changed places again with Cole in P2 until the last lap when Wetton snatched it away to just take P2 by 0.17s at the flag. Burgess had continued his relentless march through the pack and was up to 4th by lap 12 which he held until a red flag stopped the race early, Walker retired after 10 laps with gearbox selection problems.

Class B
Rogerson made an excellent start from row 5 to be the first class B car over the line at the end of the first tour, Luti, Roberts, Payne, Firth(R) and Butler next up. Byrne was out on lap 2 after losing the back end on the exit of Paddock Hill Bend. Firth, Payne and Butler had a great race these 3 exchanging places regularly. Luti took over the lead on lap 7 demoting Rogerson, Payne was up to 3rd in class by lap 10 as Rogerson dropped back a place, Luti and Roberts still at the front. A mistake on lap 12 saw Payne drop down the field to 8th and Roberts was down in 5th on lap 15 as Rogerson regained 2nd. Tomlinson was out of the race on lap 14 after hitting the barriers and Hood brought proceedings to a halt at 13:30 with a red flag as he was beached at Paddock Hill Bend. Luti took the win from Rogerson with Firth(R) an excellent 3rd.
Class C
Turnbull held the class C pole with Spencer on his bumper initially, Turnbull eased out his lead but Spencer was 2nd throughout the class C race. Ballard was out after 13 laps; at the finish Booth took 3rd one lap down along with the rest of the 160 cars bringing up the rear.
Fastest laps  Class A was Makar with a 54.897 on lap 8. Class B was Rogerson with a 56.421 (n/r) on lap 12 and Class C, Turnbull on lap 14 with 57.749 (n/r).  
Driver of the Race  Ross Makar.
In the break before the Sunday races, Cole(D) had his gearbox stripped and checked by our gearbox specialist to sort out his selection problems, Walker had his 'box checked at the same time. Hood sorted out his ABS problem (which caused the red flag) and Ballard got to the bottom of his fuse issue. Makar's clutch was replaced and another engine was cobbled together for the Piccone car overnight however his dreadful luck continued as this engine failed to fire up on the Sunday morning.
Race 2
28 cars took to the grid for our second race at 12:15 on the Sunday, conditions Cloudy/Dry. A storming start from row 5 by Rogerson resulted in contact as he caught up with Wetton and a multi car crash followed bringing out an immediate red flag. Proceedings were halted and the lunch break brought forward so the track could be cleared. 13 cars were involved in the accident and only 4 of these were able to be ready in time for the rescheduled start. Those unable to take part were: Wetton and Walker (190) Byrne, Rogerson, Marsh, Booth(P), Harris, Firth(R) and Cole(J) 170.  Two Green flag laps and a rolling start behind the safety car to avoid the wet patch still in evidence at Paddock Hill Bend got the race started at 13:05.
Class A
With just 3 cars left in this class pole sitter Burgess was out to avenge his race one drama. He led the race from the off with Makar and Cole in tow. As he entered McLaren on lap 13 a back marker was unsighted and contact put Burgess off the track as Makar swept into the lead. Burgess rejoined and a mature drive saw him claw back the gap and a great move at Clearways saw him retake the lead from Makar 2 laps later. Despite pressure from Makar there was no way that Burgess was going to miss out on his maiden Trophy win and he took the flag by just 0.3s Cole was 3rd 10s adrift.    

Class B
With this class depleted by 7 cars it was Luti, Roberts and Payne who set the initial pace with Butler next up. This order held until lap 7 when Roberts took the lead away from Luti, these two running nose to tail with Payne half a second away in 3rd, Butler holding on to 4th, Coles in 5th. Andy Firth in only his 3rd race did well to run in 6th and finally dispatched the two class c cars that were ahead of him on lap 16. Roberts and Luti continued to have a race long battle and finished the race in that order just inches apart. Payne held 3rd, Butler 4th and Coles 5th.
Class C
Turnbull once again dominated the class and led the race from pole with Spencer in close contention. These two pulled a gap on 3rd place man Booth. Returnee Croker showed his 2016 form and moved into P4 on lap 4 as Cruttenden faltered and dropped to last, Heasman and Jones were next up and Ballard, in only his second race didn't disappoint and finished ahead of Cruttenden.
Fastest laps  Class A was Burgess 54.988 on lap 16, Class B, Roberts 56.947 on lap 14, Class C, Turnbull 58.190 on lap 5.
Driver of the Race Jack Roberts