RACE BULLETIN No. 6 – 7th September 2016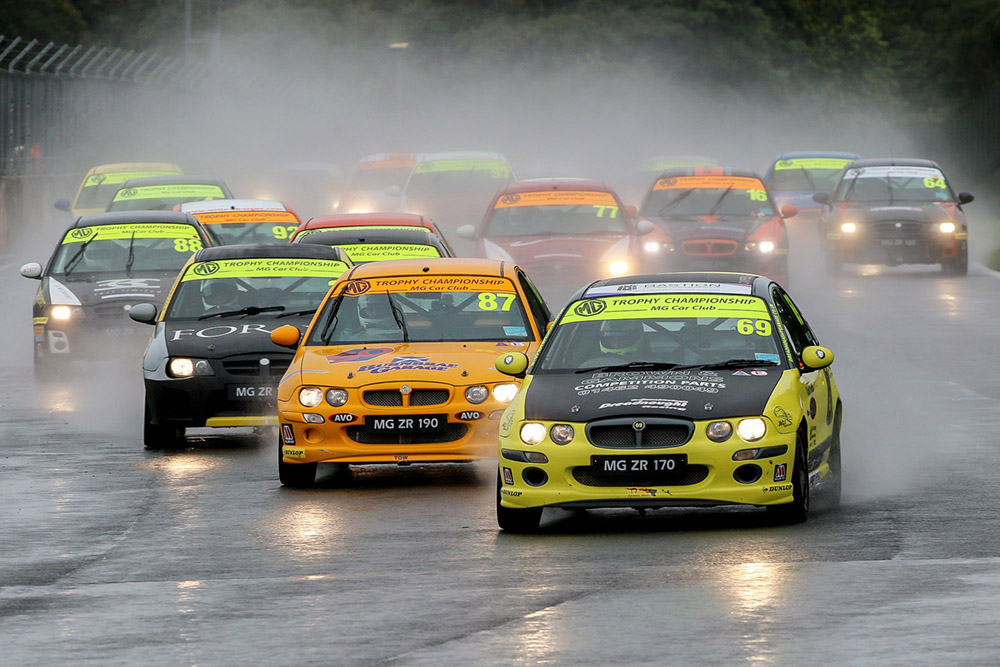 Oulton Park – 3rd September 2016
The hope was that we could fill the OP grid with 34 cars, there were 32 already entered when I left for my holiday with the promise of two more to come. This unfortunately had slipped to 28 when I returned, however it's a great total when I think back to 2006 when there were just 7 starters! Our average to date is 24.8 and that includes Mallory and Knockhill where we only had 20 cars. Once again John Woods Motorcare came up trumps and enjoyed the day so much that they have already confirmed their support for us in 2017. These rounds were filmed for later showing in our 4th 'Motors TV' programme.
Testing
There was testing available on the Friday but I was still in sunny Malta so these facts have been gleaned from Facebook. Mike Harris apparently had fun with a photo of his engine in bits spread around the paddock, a new head gasket was fitted along with a new cambelt and a repaired sensor wire. Richard Marsh had gearbox issues (again!) and Paul Bryson's recurring coolant leak was finally sorted along with a replaced inlet manifold gasket. I'm sure there were other issues but surely the biggest disappointment was the lower rumblings from the Paul Luti 190 engine, a car we haven't seen for a while and one we were hoping to see do battle with the 190 guys again. Playing safe, the decision was made to race his 170 car and a quick call to Dreadnought HQ was made early enough to get his regular mount down in time.
New Drivers
The only 'new' driver was Ryan Firth in his 170 and because #46 is very significant to him, friend Simon Byrne had agreed to let his number go to Ryan, Simon will use #4 for the rest of the season. We wish Ryan all the best in the Trophy championship.
Qualifying
All 28 cars were ready for the second qualifying session which started at 08:55 on a cloudy/dry morning. After just one lap Campbell's new engine expired in a big way just as he came out of Deer Leap, Doug Cole was next up and he lost control on the resulting oil and did well to hold the slide but still made heavy contact with the barrier on the outside of the track just before Old Hall, this brought out the red flags to stop the session. The marshalls attended to the oil slick but at the restart at 09:08 just 10 minutes remained and the cars set off again as it started to rain with all the 190's on slicks ! Luti took the initial lead with Marsh, Roberts, Robertson, Walker, Sullivan and Ross next up. Bray made a late call to come in and put wets on the back but only managed his out lap before the session was over which saw him down in 25th position. Luti held on to take the overall pole with Marsh and Roberts next in line, Robertson in 4th had the class A pole and Turnbull the class C pole in 8th place. With Firth and Doug Cole having not completed the required 3 laps this was going to be the most mixed up grid for some time ensuring two interesting races!
Race 1
The DC Motorsport team did really well to get the Cole car repaired in time for the last qualifying session of the day at 11:26, Firth also joined this session to post the mandatory 3 laps. Bray changed his alternator, Campbell was obviously out and and Jones joined him with a head full of bent valves leaving 26 cars to take the start at 12:37. Weather/Track : Rain/Wet.
Class A
Robertson was straight into second place from 4th on the grid and Ross was up to third (from 9th) at the end of lap 1, Burgess was the next class A car in 6th place. Cole was already up to 9th from last on the grid and Bray came past in 11th both following visits to the escape road along with several other cars, Walker pulled off into the pits but rejoined a lap later. Robertson was into the lead on lap 2 Ross joining him in second place a lap later, these two circulated with Ross just 0.3s in arrears a couple of times. At the flag Robertson took the win by 0.56s from Ross, Burgess was in P3 until lap 6 when Bray, who had moved relentlessly through the pack, took 3rd spot. Cole snr also made up places hand over fist to finish in 5th behind Burgess, Perkins was the 6th class A car home (8th overall), Walker calling it a day after 6 laps.    

Class B
Luti held his overall pole at the end of the first tour with Roberts and Sullivan next up in class B. Roberts was given a 10 second penalty for jumping the start and dropped back a place on lap 2 as Sullivan moved ahead.  Several cars made trips via the escape road, both Marsh and Cole jnr moved ahead of Roberts on lap 6 as he had a moment and Coles demoted Roberts at the flag as the 10 second penalty was applied. Luti's win was dominant being over 14secs ahead of second place man Sullivan.   

Class C
Turnbull held his class pole to lead after the first lap but Croker was into the lead on lap 4, Turnbull, Payne and Picone next up. Despite cars in this class also visiting the escape road Croker excelled in the wet with a good tyre choice and took the win by almost 26 secs from Turnbull, Payne held 3rd to keep his championship hopes alive and Picone was 4th.
Fastest laps  Class A was Robertson with a 2:07.847 on lap 9. Class B was Luti with a 2:10.314 on lap 4 and Class C, Croker on lap 7 with 2:23.339.

Driver of the Race – Paul Croker

Race 2
The same 26 cars grided up at 17:56 for the last race of the day, Weather/Track: Cloudy/Drying. All the class A cars went out on wets and similarly classes B & C were predominantly the same bar Croker who took a gamble and ran the Direzza tyre on the front.

Class A
Ross was up to second overall from 7th on the grid by the end of lap one and first by lap 2 with just Luti (class B) separating him from Robertson in P3. The other class A cars were still several places behind due to the mixed up grid but Bray was already up to 8th and Cole snr 9th by the end of lap 2. Bray and Cole snr continued their march through the class B cars and by lap 5 were already in 5th and 6th overall. Burgess had a recurrence of his loss of power problem and called it a day after 5 laps leaving Perkins and Walker to fill the remaining class A places. Despite trying, Bray couldn't get past Luti and finished 4th overall with Cole snr 5th as the race was halted at 18:11 with a class B car off in a dangerous position. Walker was flagged for mechanical failure as part of his exhaust fell off but was credited with 12th overall on countback.The drying track saw various drivers looking for the remaining wet spots to cool their tyres.
Class B
Luti held overall pole for just one lap as the class A cars took over the lead. The class B train of Luti, Cole jnr, Sullivan, Roberts and Marsh ran together until lap 5 when they got separated as the faster class A cars came through. Cole jnr had his best race for some time with some amazing moves at Old Hall, he did well to hold his nerve as the class A cars came through running at one time in front of Cole snr for part of a lap. The order remained the same and Luti took the shortened race win by just over 6 secs from Cole jnr. Sullivan was 3rd, Roberts 4th and Marsh 5th.
Class C
Payne made the better start and was in front of class C pole sitter Turnbull by the end of lap 1 with Croker 3rd. Croker made his move on lap 3 to take second place and was into the lead on lap 5 as Payne had a spin off into the barrier but rejoined to hold second place. Further back Picone, Heasman, Bryson and Webber fought over the remaining places. Heasman was out on lap 6 with a broken drive shaft which put him off in a dangerous position and this brought out the red flags one lap later to finish the race early. Croker took his second class C win but again Payne held on to second to bolster his championship hopes.
Fastest laps  Class A was  Robertson with a 2:04.252 on lap 6 , Class B, Luti 2:06.871 on lap 7 , Class C,  Payne 2:14.817 on lap 7 .

Driver of the Race AND Driver of the Day:- James Cole