Bulletin 6 – 9th October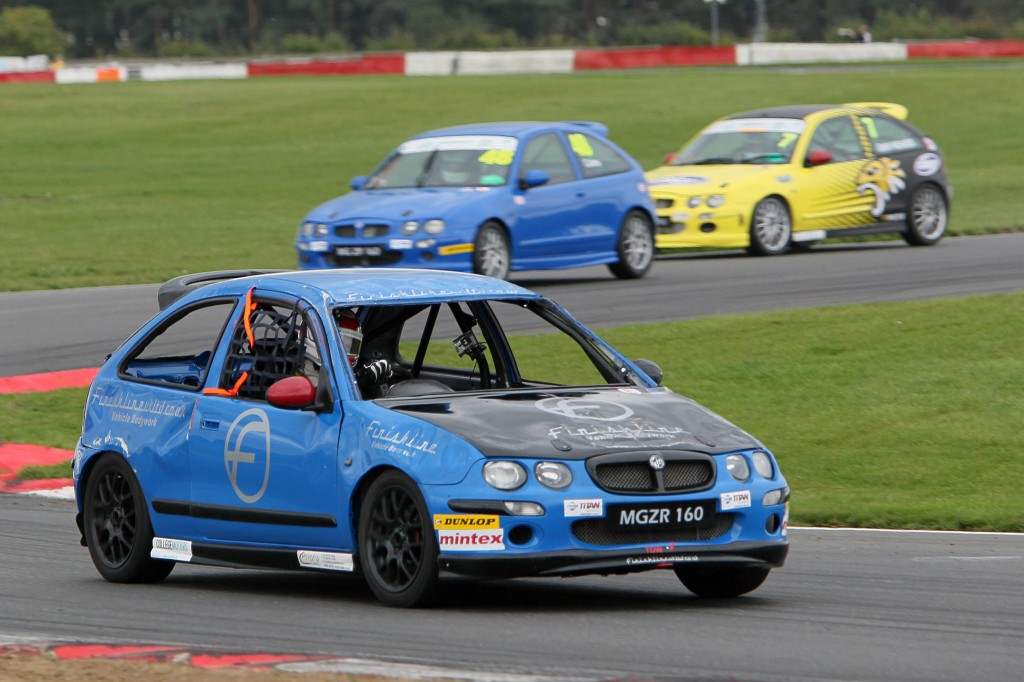 A good end of season entry of 21 cars made it to the last two races of the year at Snetterton. Again despite many hours on the 'phone talking to local MG dealers this was a non sponsored event, maybe next year !
Snetterton 5th October 2013
Testing
There was the normal pre-event testing on the Friday in groups, a lot of the Trophy cars were present, some doing the whole day some just the afternoon sessions. Robin Walker was giving the ex Mats Wahlgren car a try in favour of his usual car and Sarah Budby was out in her reshelled car now in green (with some bits of pink!). Jack Webster was also present with his new black car and Chris Boulton was testing having missed Oulton Park. Paul Luti was absent (along with the rest of the scottish contingent) having run out of time to get his new engine installed. Some were present but decided not to test including Andrew Ashton and Mike Harris. Problems included our old favourite HGF for Chris Bray and a broken wire in the throttle position sensor for Dan Jones. Some times noted were a 1:30.8 for Tom Butler and a 1:32 for Budby, in class B Walker was happier in the red and white car and Cole did a 1:28 but traffic meant these times had little relevance. It was good to see top Clio man Josh Files on hand giving Jack Webster some tips on how far you can push these great cars.
Qualifying
Our qualifying session started at 10.25 and early leaders were Neaves, Cole, Walker, Fraser-Burns in class B and Ashton, Evans, Budby, Rushforth in class C. On the third lap, Bray slotted into P1 on 1:26.776. At four laps it was Bray, Neaves, Makar and Cole and in class C it was Rushforth, Ashton and returnee Evans. After five laps the order was Bray, Neaves, Makar and Cole and in class C Rushforth, Marsh, Ashton and Butler. On lap six, Butler rolled his car at Murrays but managed to drive it back to the pits. This was followed by another roll from Jones at the same corner, which brought out the red flag at 10.39, bringing the qualifying session to an early end. Class B pole went to Bray with a 1:26.436 on his fifth lap, Makar and Neaves rounded out the top three. Class C pole went to Rushforth with 1:30.093 on lap three, Ashton and Marsh completed their top three.
Work commenced on the two damaged cars, Preptech managed to get a screen for Butler's car despite an initial delivery of a TF screen! Jones had lots of help to repair his car but decided to run without glass in the race, both cars were ready in time for the start, typical Trophy dogged spirit.
Race 1
Racing with us for the first time were Ollie Coles in the ex Colebrooke car and Jo Martin in his brand new ZR160. Our first race was at 14.29, however Boulton's car refused to fire up and was later diagnosed with three dropped valves! Twenty cars took the start, Bray held the lead and gradually pulled away from Makar creating a gap of six seconds at the end of lap eight. Neaves lost his P3 place on lap one when there was contact with Makar which dropped him right down the order to P18. Cole only held on to P4 until Riches where he overshot the corner dropping him to tenth, Walker then inherited third and Fraser-Burns fourth. These top four places held until lap ten when Cole regained fourth having worked his way back through the pack. Neaves also did the same and was up to sixth at the same point. Cole made up one further place into third, a position he held to the end. In class C the early pace setters were Marsh, Butler, Ashton and Rushforth. These places changed and at the half way stage the order was Marsh, Ashton, Rushforth all three having a very close race followed by Butler. Evans made his move on lap ten to take fourth place away from Butler, these positions then held to the flag. Contact between Mooney and Bellamy at Nelson just before mid distance left Bellamy trailing his sill.  Webster appeared to have taken on board the tips he was given, bringing his car home eighth in class behind Budby and Penfold. First time racer Coles did very well with a ninth in class.
Fastest laps  Class B was Chris Bray on lap 4 with 1:25.931s, class C was Andrew Ashton also on lap 4 with 1:29.470s.  
Driver of the Race Tom Butler.
Race 2
Boulton's car was repaired literally in the nick of time, joining the green flag lap as it went past the garages! 21 cars therefore took the start of the last race of the day (and season) at 17:22, some twenty minutes early. Bray had the class B pole and Rushforth the class C pole. Marsh started at the back of the grid due to only completing one fast qualifying lap. Coles didn't complete the green flag lap as his engine died. Bellamy's race was over on his second tour when he lost power, Jones a lap later with engine problems. Neaves came in at the end of his third lap to have the wheel nuts checked before continuing. Bray held his lead but was initially pushed hard by both Cole and Makar, Walker and Fraser-Burns completed the top five. Bray gradually pulled away an ever increasing lead at the front which he held to the flag. Meanwhile, Cole had Makar seemingly glued to his bumper, on lap five the difference was 0.005s! Cole's tyres went off sooner enabling Makar to make his move into P2 on lap twelve. In class C Rushforth was determined to hold his pole position and lead Butler, Ashton and Evans while Marsh passed ten cars on his first lap. Ashton moved ahead of Butler on lap two to take second in class joined by Marsh on lap three, already into third. Ashton suffered with brake problems dropping back as he was passed by Marsh, Butler and Evans. Mooney was out on his seventh tour with a blown engine on the Senna Straight.  Bray took the flag at 17:42 bringing an end to the championship racing for the year, Rushforth held on to take the class C honours.
Fastest laps  Class B was Chris Bray with 1:25.057s on lap 3. Class C was Richard Marsh on lap 6 with 1:28.939s a new lap record.  
Driver of the Race  Ross Makar, Class B.
Driver of the Day  Ross Makar, Class B.