Bulletin 2 – 8th May 2013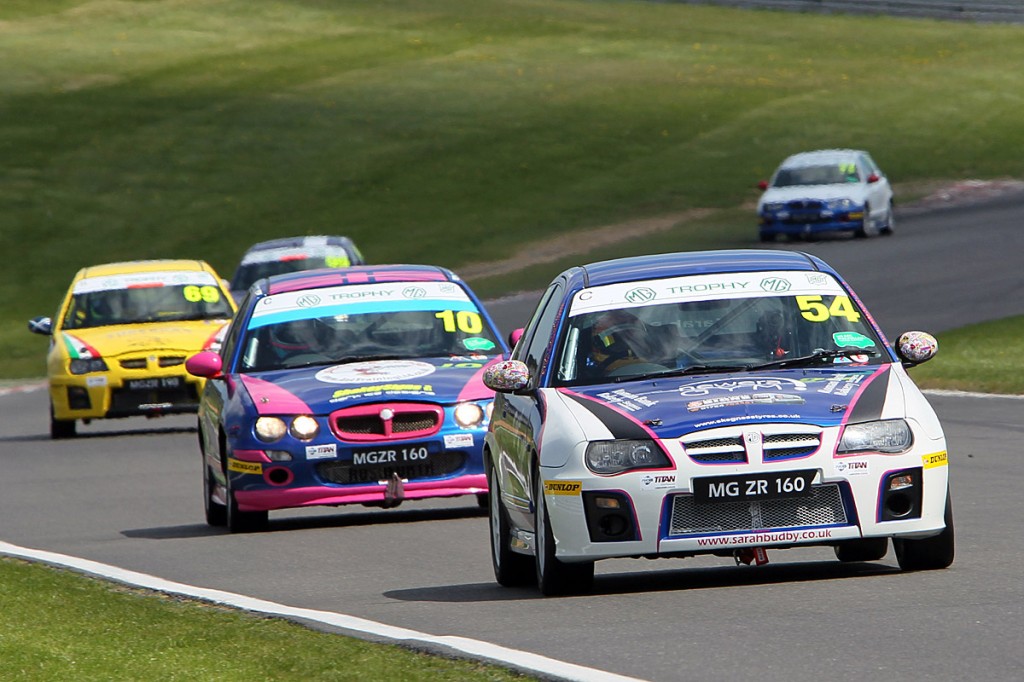 The Trophy Championship made a welcome return to Brands Hatch for two days of racing on a dry and sunny early May weekend.
Brands Hatch 4/5th May 2013
These races were both sponsored by Trophy driver David Williams' new company, Priory Retail, a new arm of his established Cascade Print Systems operation, thanks for that David we hope to see you back out racing soon.
Despite missing 3 regulars we had 22 entries which helps move our average back to >18 which we have to maintain to keep our championship status intact.
Testing
The testing was, as usual, on the Friday making it a 3 day event for many. In fact at least 15 drivers used this day to familiarise themselves with the circuit and fine tune their set up. It was good to see ex Trophy driver Zak, our ARDS approved driver coach, helping Richard Marsh hone his skills. The 9am session was scrapped after a Seat dumped oil around a lot of the circuit and the additional 30 minute session at 1pm was short lived when two cars went off. Sarah Budby was unlucky to find herself squashed between two Jags but escaped with minor damage to her door. In the afternoon, amongst the quickest were Cole, Luti and Makar all into the 55s, in class C Butler was in the 57s and Colebrooke (A) and Budby in the low 58s, she later improved on this and got into the 57s. Luti later cracked the 55sec with a 54.99, Ollie Neaves got down to 55.2 with Dan fractionally slower. Newcomer Jay Mooney was out for the first time taking it easy following his big off at Donington last year.
Problems noted on the Friday were Luti with a minor fuel leak that was soon sorted, Cole went out in the Walker car and decided a front shocker change was required despite Walker thinking the probem was elsewhere! Various ideas were tried on the Makar car to get the back to sit better. Dan Neaves had a broken oil pipe followed by a broken hub and Ollie had an alternator fail on him. The Bray car was absent all day following the earlier discovery that it was well down on power, the car was worked on back at base and finally arrived at the circuit at 8pm.
New Drivers
A big welcome to the Trophy goes to Mike Harris who had to miss Donington and Jay Mooney who races under the Rushforth stable.
Qualifying
The Trophy qualifying was the 3rd session on the Saturday starting almost 15 minutes early at 09:46. All 22 cars were out on track, early leaders after 2 laps were Makar, Luti, Budby, Butler and Ashton. At 5 laps the positions were Bray, Cole, Luti, Makar and Walker. With 5 mins to go the order was Bray, Luti, Cole, Ollie Neaves and Makar, these positions didn't change and in class C the order at the flag was Ashton, Colebrooke(A), Butler, Budby and Savage.
The class B pole went to Bray with a 54.49 on his 4th lap, the next 3 all logging their best on lap 9. In class C Ashton took the pole slot on his 9th tour with a new qualifying record of 57.114, the next 3 also all in the 57s.
It was noted that three of the cars had transponders not working.
The only attention noted was Butler's car that needed a new rocker cover gasket following an oil leak.
Race 1
The first Trophy race was the third race of the day at 14:09 on a still dry but quite cool and windy day. Following the green flag lap Rushforth stopped off at the pits to drop off his torque wrench(!) meaning a start from the pit lane. Disaster then struck Bray as he had to be pushed off the pole slot with a broken driveshaft following over enthusiastic tyre warming. Despite the empty space in front of Cole, Luti held his station to take the lead due to the missing Bray, Cole was followed by Ollie Neaves and the fast starting Dan Neaves who moved from P6 to fourth, Makar completing the first five. Excitement ensued on lap two as Penfold went off at the exit to Paddock Hill Bend with several of the other class C cars taking avoiding action. Butler lost it at as he lifted losing him several places. Andrew Colebrooke managed to get himself out of the gravel with Webster off as well. Ashton went off at Graham Hill bend on his 3rd lap rejoining third from last. Lap 4 saw the end of Ollie Neaves at the same spot parking his car on the outside of the circuit on the grass virtually in the same place as last year, this left 19 cars racing. At the front the order was now Luti, Cole, Dan Neaves, Makar and Walker. By lap 6 the slower cars were being lapped, class C was now led by Andrew Colebrooke with Bellamy having a good race in second spot. Savage, Rushforth and the fast charging Ashton, already back up to 5th place, as he moved through the pack. By half distance the order at the front remained the same however in class C it was Colebrooke(A) still leading but with Savage now in 2nd, Ashton 3rd and Bellamy and Rushforth completing the top 5. Disaster struck on lap 17 as Colebrooke(A) lost a wheel at Clark Curve and stopped, this was followed by Bellamy who pulled off a lap later. At the front Cole took the lead off Luti on the start finish straight only to lose it again a couple of laps later. At the flag it was Luti with Cole just 0.42 secs adrift Dan Neaves, Makar and Walker. In class C Ashton pulled off the impossible to take the win from Savage, Marsh did well to get himself up to third, Rushforth and Budby completing the top 5.
Fastest laps Class B was Doug Cole on lap 2 with 55:036, Class C was Andrew Ashton on lap 10 with 56:818
Driver of the Race – Andrew Ashton.
Race 2
Various repairs took place before the Sunday race including new hubs for Andrew Colebrooke and Ollie Neaves, a new driveshaft for Bray, a change of gearbox and new clutch for Walker and a fix to a broken wire that had eliminated Bellamy. James Colebrooke suspected his clutch so opted to start from the back.
The race started at 12:33, the last race before lunch, Bray started from pole and Ashton the class C pole. Unfortunately, Bellamy was off at McLaren hitting the barrier quite hard, his race over.
Bray soon dominated, pulling out an ever increasing lead from Luti, Cole, Ollie and Dan Neaves. Contact between Jones and team mate Bray at Graham Hill Bend saw Bray only just managing to correct his sideways car. In class C Ashton held his lead from Andrew Colebrooke, Marsh, Rushforth and Budby following Butler's exit at Druids on lap 2. These positions in both classes remained the same, the Neaves having a great bumper to bumper race throughout. On lap 13, Marsh got past Andrew Colebrooke to move into P2 and Savage passed Rushforth to take 3rd. On lap 17, Budby passed Rushforth to move into 5th place. Following his earlier off, Butler continued after a quick pit stop and continued to race to the end despite considerable damage to his car. Marsh fooled Ashton into thinking he was a 190 driver, Ashton letting him through but quickly realising his mistake, retaking the place. Â The race finished at 12:53 with Bray taking a dominant win by over 10 secs. from Luti, Cole was 3rd. Dan Neaves took his brother on the last lap to claim 4th by 0.34 secs. In class C, Ashton took the win from Marsh, Andrew Colebrooke, Savage and Budby. Andrew Colebrooke was checked over by the medical staff following his shoulder injury.
Fastest laps Class B was Chris Bray on lap 3 with 54:65, Class C was Andrew Ashton on lap 21 with 57:21 a new race lap record.
Driver of the Race – Chris Bray
Driver of the Day to Trophy Driver, Chris Bray.