News
Brooklands MG ERA Day – Sunday 8th April 2018
Brooklands were kind enough to allow us the central display area to kick of our 60th Anniversary events. Great day had by all, despite the weather. We even had chance to drive the Mercedes World Track.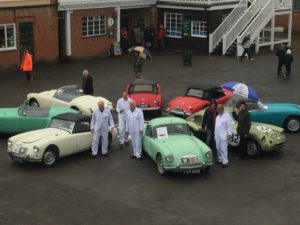 TCG sponsored events for 2017 have now concluded, thanks to those who attended.
Planning for next years 60th Anniversary launch re-enactment at Chobham 14th July 2018 is well under way now. Please register interest via – mgatcg@outlook.com
Twin Cam Group news is distributed predominantly via our 4 page spreads in Safety Fast twice a year.
We also offer a quarterly eNewsletter. If you are a member and not on the email distribution list please contact the chairman or mgatcg@outlook.com
Here's a great photo of the TCG celebrating their 50th anniversary in May 2016, a venue we will use again for 2018's Chobham event