Record turnout of MGAs on the Yorkshire Dales tour
68 MGAs of all styles and colours gathered in Ilkley over the weekend 11th to 14th May to enjoy the stunning scenery of the Yorkshire Dales in springtime.  To help ease congestion on the narrow moorland roads, two full day routes were planned and each  driver given the option to choose  which route to follow on Saturday and Sunday.  This worked well with the cars being evenly split over the routes on both days.

A record was also set when 130 people sat down for roast beef and Yorkshire pudding in the ballroom of the Craiglands Hotel on Saturday night!
Brooklands MG Era 2018
Twin Cams took pride of place at Brooklands in celebration of their 60th Anniversary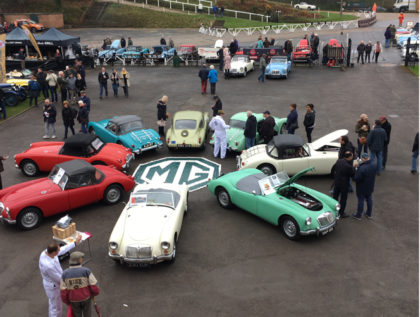 SRX 210 The Le Mans Class winner from 1959 joined the octagon of Twin Cam cars.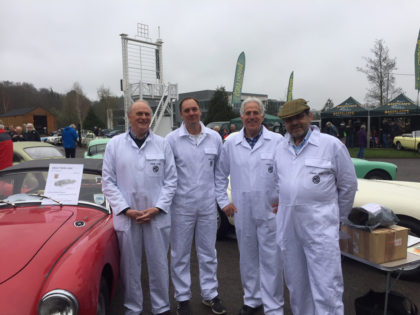 Members of the Twin Cam Group Committee managed to look cool despite a cold dreary day.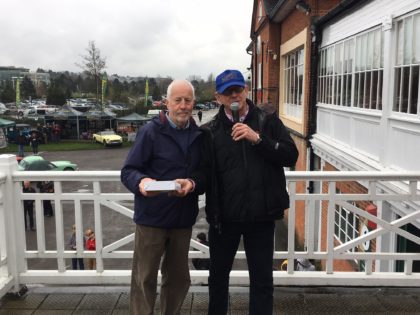 Bruce Mayo receiving the Twin Cam 'Car of the day' award from Jon Glover.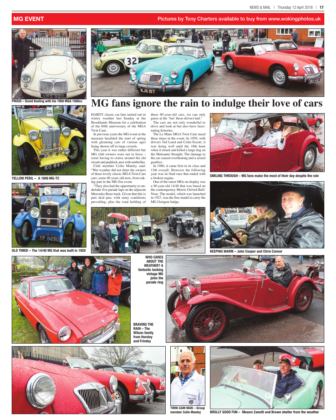 The Woking News and Mail published this full colour page,
Back Issues of "Safety Fast!" for sale
MGA Register Archive has Back issues of "Safety Fast!" for sale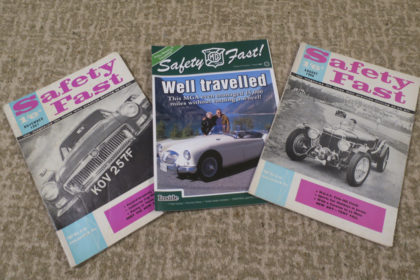 Dates available
1966 March  sold
1966 July  sold
1966 August  sold
1966 September  Some pages removed
1966 October
1967 July sold
1967 August  Damaged cover sold
1967 September
1967 October
1967 November
1968 March
1968 April
1968 May
1968 June    Contains the article "MGA To The Arctic"
1968 September
1968 October
1968 November
—————————————————-
2007January
2007 February
2007 March
2007 April
2007 May
2007 August
2007 September
2007 October
2007 November
2007 December sold
Prices and Ordering
All copies from 1966 to 1968 £4.00
[Except September 1966 and August 1967 which are reduced to £2.00]
All copies from 2007 £2.00
Postage to a UK address £1.50 for up to 2 magazines in one envelope.
Postage rates to other countries will be notified at the time of ordering.
To order: send an email to mgaregistershop@outlook.com stating the magazines you want and your name and address for delivery.
We will send you a PayPal invoice which you can pay by credit or debit card at no extra cost.
Please say in your email if you wish to pay by cheque.
MGAs are "cool and sexy" it's official!
It's official, click on this link https://www.driving.co.uk/news/video-inherited-mga
Read Charlotte Vowden's story and watch her video of the MGA she inherited from her father Raymond Greenway.  Published in the Sunday Times 12 November 2017.
The Eagle comic 9th September 1955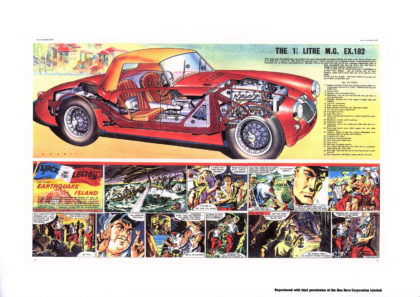 The Eagle a popular childrens' comic in the 1950s is believed to be the first publication in the world to announce the impending arrival of the MGA two weeks before the official launch.
Click on the image for a close up of the centre spread of an EX182 MG's new 1500cc sports car.
Now available from the MGA Register shop as a full size colour poster limited to 101 copies.  Priced at £11.00 + p&p, see all the details on our Merchandise page.
Watch MGA Day 2017 on You Tube
MGA Day for 2017 was held a Croome Park Worcestershire on Sunday 13 August with 55 cars of all models and colours on show in a designated picnic area next to the visitor centre.  Click here to see Jonny Pollard's 3 minute video with a specially added soundtrack.
The Car as Art
MGA Register introduces a set of 3 posters presenting the MGA as illustrated in the hand drawn sales brochures of the 1950s.  Evocative images to delight all enthusiasts.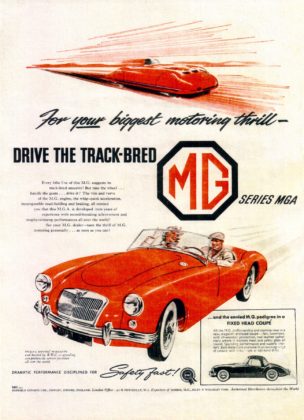 Ideal for framing to hang in your garage, workshop or study.
See all the posters in our Merchandise shop on this site
Will be on sale at MGLive!
Available now by mail order
Update on Spring Tour 2018
The booking arrangements for this event are finalised and have now been posted to the Events 2018 page of this site.  If you would like to take part please visit the page now.
Volunteer wanted for merchandise sales
For the past two years, George Dutton has been responsible for sales of MGA Register merchandise at events and by mail order.  We are now seeking a replacement who is willing to take on the following tasks, after a period of induction and experience.
Hold the stocks in a secure environment.  In practise, this means one large holdall and several small boxes.  Reorder stock from suppliers and implement ideas for new products.
Deliver the holdall to outdoor events such as MGLive! and MGA day.  Set up the stall and take a turn on the counter.  Cash up at the close and report sales to the Treasurer.
Check the mail box at least weekly and issue PayPal invoices to customers.  Pack and despatch orders when payment has been received.  Report sales to the Treasurer at the end of each month.  (To give you an idea of the level of mail order sales, 71 PayPal invoices were issued in 2016.)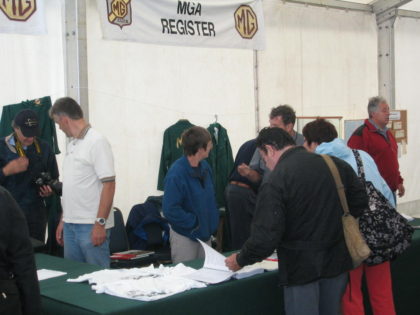 The MGA Stand at MG Live!
The Register would like to hear from anyone who is interested in finding out more about the job.  To see the range of products on offer, take a look at the Merchandise Shop page on this site.
In the first instance, please email George Dutton mgageorge@btinternet.com  He will explain the role in more detail and is happy to work alongside you to ensure a smooth handover.
Please note, at this time we have a volunteer who is willing to take on the issue and control of the PayPal invoicing but cannot commit to the remaining tasks.  The option to split the role between the volunteer and another member is a possibility.
Peter Morgan
Chairman MGA Register