MGA Autumn Tour 2018. Rooms are still available!
Are you enjoying your MGA during this spell of glorious weather.  Of course you are, so why not extend your season and join the Register's Tour of the Cotswolds and Thames Valley in late September.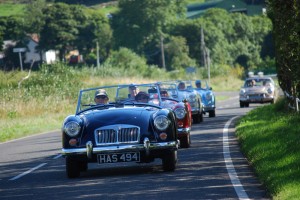 Full details can be found on the "Events 2018" page of this site.
In the meantime, our tour organisers Jill and Graham Eke would like to temp you with this preview of the routes.
" We will be visiting MG Car club and Nuffield House, then on the Sunday there is an opportunity to visit a Bus Museum which also has Morris Cars, a Steam Saw Mill, and a Woollen Mill.  If all you want to do is drive your MGA, we will be travelling through some beautiful countryside with views over the Berkshire Downs, some very pretty Cotswold villages passing some interesting pubs by the River Windrush or Thames to stop and relax in.
We intend to take some flyers to MGA Day  at Canons Ashby on 12th August"