Back Issues of "Safety Fast!" for sale
MGA Register Archive has Back issues of "Safety Fast!" for sale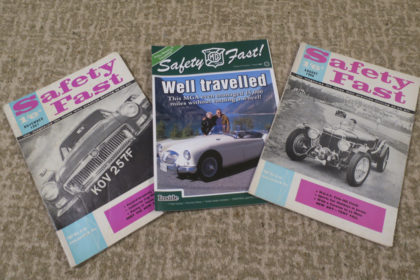 Dates available
1966 March  sold
1966 July  sold
1966 August  sold
1966 September  Some pages removed
1966 October
1967 July sold
1967 August  Damaged cover sold
1967 September
1967 October
1967 November
1968 March
1968 April Sold
1968 May
1968 June    Contains the article "MGA To The Arctic"
1968 September
1968 October
1968 November
—————————————————-
2007January
2007 February
2007 March Sold
2007 April
2007 May
2007 August Sold
2007 September Sold
2007 October Sold
2007 November
2007 December sold
Prices and Ordering
All copies from 1966 to 1968 £4.00
[Except September 1966 and August 1967 which are reduced to £2.00]
All copies from 2007 £2.00
Postage to a UK address £1.50 for up to 2 magazines in one envelope.
Postage rates to other countries will be notified at the time of ordering.
To order: send an email to mgaregistershop@outlook.com stating the magazines you want and your name and address for delivery.
We will send you a PayPal invoice which you can pay by credit or debit card at no extra cost.
Please say in your email if you wish to pay by cheque.