Volunteer wanted for merchandise sales
For the past two years, George Dutton has been responsible for sales of MGA Register merchandise at events and by mail order.  We are now seeking a replacement who is willing to take on the following tasks, after a period of induction and experience.
Hold the stocks in a secure environment.  In practise, this means one large holdall and several small boxes.  Reorder stock from suppliers and implement ideas for new products.
Deliver the holdall to outdoor events such as MGLive! and MGA day.  Set up the stall and take a turn on the counter.  Cash up at the close and report sales to the Treasurer.
Check the mail box at least weekly and issue PayPal invoices to customers.  Pack and despatch orders when payment has been received.  Report sales to the Treasurer at the end of each month.  (To give you an idea of the level of mail order sales, 71 PayPal invoices were issued in 2016.)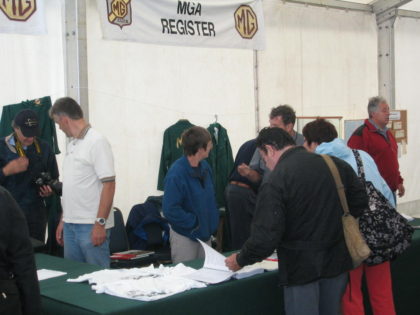 The MGA Stand at MG Live!
The Register would like to hear from anyone who is interested in finding out more about the job.  To see the range of products on offer, take a look at the Merchandise Shop page on this site.
In the first instance, please email George Dutton mgageorge@btinternet.com  He will explain the role in more detail and is happy to work alongside you to ensure a smooth handover.
Please note, at this time we have a volunteer who is willing to take on the issue and control of the PayPal invoicing but cannot commit to the remaining tasks.  The option to split the role between the volunteer and another member is a possibility.
Peter Morgan
Chairman MGA Register