Cars and Spares For Sale and Wanted
This is the T Register's page for advertising cars and spares for sale and wanted. The facility is free. Adverts are listed in date received order, the latest one at the top.
There are two separate forms to complete to put your advert on this page, one for cars and one for spares –
Form for advertising cars
Form for advertising spares
Please be aware, the MGCC and T Register cannot be held responsible for advertisers.
Buyers and sellers of cars and spares can leave themselves open to becoming the victim of fraud or other crimes. Please look at the Vehicle Safe Trading Advisory Group (VSTAG) web site – an excellent source of guidance on how to recognise fraudulent approaches when buying or selling a car or spares.
---
Car For Sale
Car model
TD
Registration number
164 XUL
Chassis number
TD29330
Description
Rare opportunity to buy one of the last few true RHD UK spec. cars, build date 14th July 1953.
Matching numbers, with no mechanical defects, conversion to unleaded. Solid chassis and tub, no rust/rot.
Carefully maintained during my ownership:-
• 11,000 miles since engine overhaul
• Respray 2015
• Rewire to factory specification 2015
• New brake m/c and pipes etc 2017
• New battery 2017
• ALL instruments as original and working (including clock!)
• Full weather gear
Must be seen to fully appreciate the quality of this car.
Looking to sell as I've bought a 1938 VA Tourer & the wife says I can't drive 2!
Price
SOLD
Contact
Phone 0797 4421827
email mike.lees@outlook.com
added 24 March 2018
For Sale
Car model
TB
Description
Original brochure from 1939 for MG TB in very good condition near perfect, not a copy.
Price
£120
Contact
Phone +33610182622
email jpchampailler@wanadoo.fr
added 8 March 2018
For Sale
Car model
TC
Description
MG factory booklet Special Tuning Midget engine type XPAG issue 1 June 1949.
Original in good condition.
Price
£80
Contact
Phone +33610182622
email jpchampailler@wanadoo.fr
added 8 March 2018
Car For Sale
Car model
TC
Description
TC2905, Date built 4 Jun 1947. Export Model, imported from Malta 30 May 1950.
Registration No LLM 78, formerly 8286 (GBY).
History
I bought TC2905 in late 1966 while a student at Bristol University, registering the car with my home address at Bucks County Council on 23 Jan 1967.
During 1967 I carried out an engine rebuild, and resprayed the body red. The car was my daily transport as a student and between home and university.
By the summer of 1970 when the engine failed due to overheating, I dismantled the car for a total ground-up restoration. By this time I had acquired the basis of another TC – TC2388 – which I also worked on at my parent's home, later moving to West London. While I concentrated on the rebuild of TC2388, I overhauled parts for TC2905 as well as acquiring new parts.
Overhauled components of TC2905
Chassis alignment checked, shot blasted and powder coated.
Engine machining: crank ground/balanced/bead blasted/one journal rebuilt.
Block: new liner to one bore, standard bore.
Gearbox stripped and rebuilt, new seals, springs, washers etc.
Wire Wheels rebuilt and stove enamelled.
Brake drums and back plates – drums skimmed, stripped and painted.
Steering column and box exchange by Toulmins.
Starter motor and dynamo rebuilt by Lucas.
Instruments: gauges rebuilt.
Original headlamps and D lamps
Windscreen wiper motor
New Components for TC2905
Ash frame.
Body panels: rear wheel inner arches and wings, scuttle and running boards.
Rubber seals for body panels.
Interior trim kit (beige).
Gearbox rubber cover.
Speedo and rev counter drive cables.
Dashboard cables: starter pull, choke and slow running.
Handbrake cables.
Wiring loom.
Switches: ignition, horn/dip, panel lamps, fog lamp.
Map lamps.
Handles: door, bonnet, grab.
Door catches.
Rear view mirror, side mounted.
Windscreen corner brackets and fixings.
Documentation
Registration documents: green continuation Log Book period 1963 to 1967, later V5/1 and current V5C.
MOT Certificate issued 12 March 1969.
Repairs bills/invoices (various).
Instruction manual 'Brown Book'.
Guarantee Certificate, facsimile.
Correspondence regarding Malta.
Price
£16,500
Contact
Phone 07789 702887
email df.barnes8@btinternet.com
added 3 March 2018
Spares Wanted
For car model
TC
Description
I'm missing one Luvax Girling PR6 shock absorber. If anyone can help that would very much be appreciated. I also need:
Starter, choke and slow-running cable with knobs
Steering wheel and boss (old stock or excellent condition)
Master brake cylinder push rod
Carburetor inlet manifold
Front engine plate
Air inlet manifold collars and clamps
Air canister and brackets
Front and rear exhaust pipes
Contact
Phone 01623612552 or 07580284236
email chris.blood60@outlook.com
added 2 March 2018
Spares for Sale
For car model
TC mainly (but some TD and TF)
Description
Oil pipe block to head


Price: £20.00

Oil pipe pump to filter

Price: £40.00

Oil pipe filter to block


Price: £40.00

Oil pump refurbished

Price: £120.00

Crank oil thrower upper


Price: £25.00

Camshaft sprockets (two sets and so on so

Price: £45.00

Camshaft thrust plate


Price: £30.00

Timing chain tensioner

Price: £40.00

Rocker pedestal stands


Price: £10.00

Rear axle

Price: £500.00

TF Water outlet


Price: £45.00

TF Oil filter bowl

Price: £10.00

TD Oil filter strap


Price: £40.00
Contact
Phone 07771901730
email peterjones1880@me.com
added 24 February 2018
Spares Wanted
For car model
TF
Description
Rear nearside wing preferably in good condition.
Contact
Phone 02088863080
email de.brander@btinternet.com
added 18 February 2018
Spares for Sale
For car model
All T Types
Description
Hardly used Hamilton suptertex A-1 cover (red) suitable for all T types. Cost £121 when new.
Price
£45.00
Contact
Phone 01728 668962
added 6 February 2018
Spares for Sale
For car model
TC and TD
Description
No reproduction but all original as salvaged off actual engines — so they will fit!
Water outlet manifold


Price: £40.00

Thermostat housing (with thermostat—un tested)

Price: £40.00

Water pump pulley


Price: £20.00

Water Pump (untested)

Price: £40.00

Set TC brake shoes


Sold

Dynamo adjusting Link (TC flat / TD cranked)

Price: £20.00

Bracket rear dynamo


Price: £25.00

Rocker box cover TD/YB

Price: £75.00
Contact
email peterjones1880@me.com
added 14 January 2018
Spares for Sale
For car model
TC
Description
A S.CO.T supercharger
It was on a TC
Price
€4000.00 (euros)
Contact
Phone 00491636244200
email jb@classic-data.ch
added 7 January 2018
Spares for Sale
For car model
TF
Description
We have had a message from a Paul who owns a garage in Cardiff as follows –
—————-
Hello, my name is Paul I own a garage in Cardiff ,a scrap van was collecting scrap from my garage and on the back of his truck were 2 wings. With a bit of research I have found they are from a MG TF. These are not original as they are made from fibreglass but I took them off him as he was going to landfill them. I was just wondering if you thought they would be any use to one of your members? I have an old Ford myself and know how hard getting some parts can be so I thought it would be a shame to throw them out without checking.
—————–
Contact
So contact Paul
email torquemotorsltd@btconnect.com
added 22 January 2018
Spares Wanted
For car model
TF1500
Description
New to the T Series community and have recently bought a very tired 1955 TF 1500. Rebuild starts in the New Year. I will be looking for many original spares. Windscreen frame, bumpers and over riders, seat frames and rails, hood frame and side-screens, front valance are the obvious spares I need, but don't know what lies in wait for me when I get out the spanners.
So would be interested to hear of anything you have that is surplus to requirement and may help me with my steep learning curve. Happy to pay a fair price and refurbish as required.
Contact
Phone 07979315075
email mcdougalljs@btinternet.com
added 16 December 2017
Spares for Sale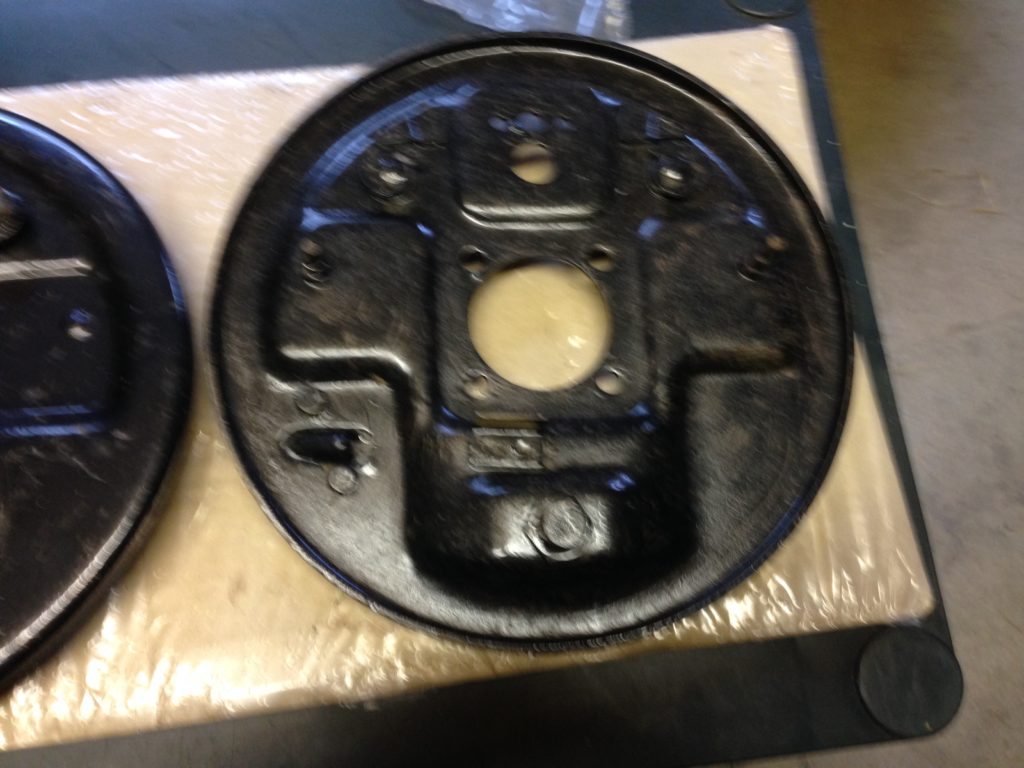 For car model(s)
TA-TC
Description
Rear axle brake plates complete with rare hand brake cable guides.
Sell as pair only. Also axle casing if required. Photograph on request.
Price
£200.00
Contact
Phone 07876220175
email happypeople222@gmail.com
added 6 November 2017